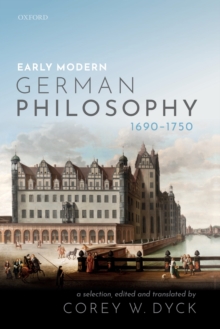 Early Modern German Philosophy (1690-1750)
Paperback / softback
Description
Early Modern German Philosophy (1690-1750) makes some of the key texts of early German thought available in English, in most cases for the first time.
The translations range from texts by the most important figures of the period, including Christian Thomasius, Christian Wolff, Christian August Crusius, and Georg Friedrich Meier, as well as texts by consequential but less familiar thinkers such as Dorothea Christiane Erxleben, Theodor Ludwig Lau, FriedrichWilhelm Stosch, and Joachim Lange.
The topics covered range across a number of areas of theoretical philosophy, including metaphysics (the immortality of the soul, materialism and its refutation, the pre-established harmony), epistemology (the principle of sufficient reason, the limits of reason with respect tomatters of faith), and logic (the role of prejudices in cognition and the doctrine of truth).
These texts are intended to showcase German philosophy in the early Modern period as a far richer tradition than it is typically given credit for, and indeed as much more than either a footnote to Leibniz or merely a step on the way to Kant.
This collection is a valuable resource for students and scholars interested in the early modern German tradition and the often neglected works that enlightened it.