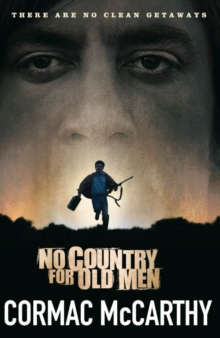 No Country for Old Men
Paperback
Description
Llewelyn Moss, hunting antelope near the Rio Grande, stumbles upon a transaction gone horribly wrong.
Finding bullet-ridden bodies, several kilos of heroin, and a caseload of cash, he faces a choice -- leave the scene as he found it, or cut the money and run.
Choosing the latter, he knows, will change everything. And so begins a terrifying chain of events, in which each participant seems determined to answer the question that one asks another: how does a man decide in what order to abandon his life? 'No Country for Old Men is a severed head and shoulders over anything else written in America this year' Independent on Sunday 'A Western thriller with a racy plot and punchy dialogue, perfect for a lazy Sunday' The Times '[An] utterly absorbing, chilling tale ...One of the most sinister characters in modern American fiction' Herald 'A fast, powerful read, steeped with a deep sorrow about the moral degradation of the legendary American West' Financial Times 'It's hard to think of a contemporary writer more worth reading' Independent
Information
Format: Paperback
Pages: 320 pages
Publisher: Pan Macmillan
Publication Date: 04/01/2008
ISBN: 9780330454537
Other Formats
Paperback from £6.85
EPUB from £6.47
CD-Audio from £13.05
Free Home Delivery
on all orders
Pick up orders
from local bookshops
Reviews
Showing 1 - 4 of 4 reviews.
Review by TheoClarke
16/06/2015
Brutal dialogue-driven crime novels are the established preserve of the likes of Robert B. Parker. McCarthy takes a more clinical approach to the violence and declines to leaven it with any humour. The plot is not confused with any subplotting but the overall effect is confusing. This is not because there are two dominant voices (an anonymous third person narrator and the internal monologue of the ageing sheriff bemoaning social change); it arises from the lack of distinctive differences between the characters. Everybody speaks a flat cod Texan. Few characters use any analogies or metaphors so their language is similar in its objectivity. Furthermore, in a book so dedicated to a brutal realism there is a substantial demand for a suspension of disbelief. Ruthless hypereffective characters are nothing new but they are incongruous in such a context. Richard Stark's Parker makes small mistakes; here, Chigurgh is infallible. The product of all these wrinkles is a book more interesting than it was enjoyable.
Review by mojacobs
16/06/2015
The Times said it nice and compactly: "a western thriller with a racy plot and punchy dialogue, perfect for a lazy Sunday". And indeed, this is a very fast read, with short sentences and lots of action. You just don't want to stop reading. I did not expect that.But what I did expect and what The Times does not mention, is that this is not an optimistic book. The main story is that of welder and Vietnam veteran Llewellyn Moss, who stumbles upon a drugs transaction gone terribly wrong, and who cannot resist a case full of money. It is combined with the story of Sheriff Bell, who is thinking of retiring and looks back on his life as a Sheriff in short chapters throughout the book. His voice really brought the country and people of this (southern) part of the US to life for me, but his musings also create a profound sadness that stays with you long after you've finished.
Review by Nandakishore_Varma
16/06/2015
This is started as a one-star book, then progressed to four slowly as the story unfolded. The novel grows on you.<br/><br/><i>No Country for Old Men</i> starts out in a thoroughly disjointed way. Multiple POVs, total lack of punctuation, dialogue rendered exactly as the characters speak it... the reader is utterly confused as to where the focus is, who the protagonist is, and what the story is about. <br/><br/>It could be about one Llewlyn Moss who stumbles upon a fortune while hunting antelope near the Rio Grande. A transaction between drug dealers has gone wrong, leaving a number of bodies, a huge stash of heroin, and a case full of cash. Moss takes the cash and runs, knowing fully well that his life is changed for ever.<br/><br/>Or then, it could be about Anton Chigurh, hired gun and cold-blooded killing machine. He is entrusted with the task of finding the money taken by Moss. On the way, Chigurh leaves a trail of dead bodies, sometimes philosophising to his victims.<br/><br/>Or it could be about Sheriff Bell, bent on doing his job of keeping law and order and protecting the citizens of his county to the best of his ability-even though most of the time, he fails.<br/><br/>The story moves at a roller-coaster pace. The scenes are short and mostly disjointed: the author sometimes leaves a major piece of the action behind the scenes. Characters come and go without any introduction. The sentences hit you like machine-gun fire.<br/><br/>If you stick with the novel, after some time, you get accustomed to the style; it loses its annoyance potential, and the real story starts coming through.<br/><br/>For this is not the story of Moss, or of Anton Chigurh; but of Sheriff Bell, and the country he is a symbol of. This is the country of Daniel Boone and Wyatt Earp and Billy the Kidd and Jesse James: the country of "The Man With No Name", and a hundred Spaghetti Westerns we have seen and forgotten. This country is absolutely heartless but imbued with a certain terrible beauty. This country sends forth its sons to die in Vietnam and Iraq.<br/><br/>It is, indeed, not a country for old men.<br/><br/>Anton Chigurh is a masterly creation: one of the most frightening villains I have come across, because he is not "evil" in the traditional sense. Chigurh is a philosopher, a believer in the karma of what he is doing, the karma which is unstoppable and which will find you out no matter what. The scenes of him philosophising with Carson Wells and Carla Jean before he shoots them are terrifying for the lack of emotion in them. It is also ironical that an out-of-control car driven by three junkies, an entirely chance event, ultimately proves to be his undoing.<br/><br/>But as I said earlier, this is the story of Sheriff Bell, who is atoning for a single act of cowardice during the second world war (rather like Lord Jim). We get to know this only towards the very end, after the whole affair of Moss and Chigurh is over and done with: then the story suddenly falls into focus, and the philosophical interludes of the sheriff interspersed throughout the novel with the main narrative starts to make perfect sense. The killers, the chase and the shootouts are all just window dressing for the story of this one man as he tries to make sense of the conundrum of the meaning of life. And he does find his answer, though maybe not the one he expected.<br/><br/>The image of this man, standing alone in the midst of the desert, shoulders slumped in defeat against an increasingly violent and unjust world, is a touching one: and somehow heartening. Because we know that he is the real spirit of the desert, the gunslinger of American myth who rides off into the sunset after taking care of the baddies. And because we know that finally at the end of the trail, his dad will be waiting for him with the fire burning in the dark as he saw in his dream.<br/><br/>Ride on, Sheriff Bell.
Review by Polaris-
16/06/2015
I'm wary of 'reviewing' a book that already has clocked some hundreds of such entries. The excellent and gripping film adaptation directed by the Coen brothers received a rightly deserved amount of attention as well. So a lot of people know this one already. Nevertheless, this was my first read of McCarthy's work, (picked up for a quid in a bank of all places!) so I'll attempt to convey my impressions having just finished the book.This is set in the year 1980. Before the triumphalist era of Reagan sets in and at a time when the USA was perhaps beginning to sense itself a nation that had passed something. An America when the Vietnam war was a very fresh wound on the national psyche. Texan Llewelyn Moss is a veteran of that war. He is hunting alone in the Rio Grande hinterland, and happens upon a very bloody drug smuggling denouement - which includes a shot-up vehicle, a dying occupant, and a file case full of cash. Millions. He makes a decision that will change his own life and the lives of several others. (SPOILER AHEAD!)"It had already occurred to him that he would probably never be safe again in his life and he wondered if that was something that you got used to. And if you did?"A second man has made it his business to find the case of money and return it to whom it belongs. Anyone interfering with this endeavour will be mercilessly eliminated. There follows a fast-paced and intensely described series of episodes as we see how life indeed changes very immediately for Moss and his family, and how the second man, Chigurh, sets about retrieving the case. McCarthy's story is told narrated in the third person, except that a third principle character - that of the investigating local Sheriff Ed Tom Bell - reflects back on this time with a first person narrative which intersperses each chapter. The effect is one that is somehow cinematic, as we the reader experience the story in rotation from one perspective to the next. The good, the bad, and the fearful. The language used by the author is as spartan as the surrounding terrain. "...Where he crested out the country lay dead flat, stretching away to the south and the east. Red dirt and creosote. Mountains in the far and middle distance. Nothing out there. Heatshimmer. He stuck the pistol in his belt and looked down at the river one more time and then set out east."The characters are drawn with a similar economy but are all too believable. The character of Chigurh alone is one of the most terrifying and coldly calculating psychopaths I've ever read. Sheriff Bell is an aging and somewhat disillusioned cop, on the eve of his retirement. Bell's 'tale' as told to us is one as much about a sense of a declining morality, a changing American civilisation, and even life itself, as it is one about a drugs deal gone bad, a case of money, and a trail of dead bodies.This is no ordinary crime tale, but rather a comment on something much larger than that, something that I couldn't quite grasp exactly. Possibly that there is a creeping decay of sorts at work, which colonises and changes society as we know it. The criminals and the cops alike, and maybe an honest welder like Moss as well. Not the most uplifting read, but a very affecting one that is well written and should have you turning the pages. Definitely going back for more McCarthy.