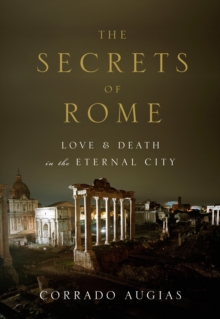 Secrets of Rome : Love and Death in the Eternal City
Paperback / softback
Description
From one of Italy's best-known writers comes an exploration of the Eternal City from a fresh and intriguing new angle.
Corrado Augias moves perceptively through twenty-seven centuries of Roman life, shedding new light on a cast of famous, and infamous, historical figures and uncovering secrets and conspiracies that have shaped the city without our ever knowing it.
From Rome's origins as Romulus's stomping ground to the dark atmosphere of the Middle Ages; from Caesar's unscrupulousness to Caravaggio's lurid genius; from the notorious Lucrezia Borgia to the seductive Anna Fallarino, the marchioness at the center of one of Rome's most heinous crimes of the post-war period, Augias creates a sweeping account of the passions that have shaped this complex city: at once both a metropolis and a village, where all human sentiment-bravery and cowardice, industriousness and sloth, enterprise and laxity-find their interpreters and stage.
If the history of humankind is all passion and uproar, then, as the author notes, for centuries Rome has been the mirror of this history, reflecting with excruciating accuracy every detail, even those that might cause you to avert your gaze.
Information
Format: Paperback / softback
Pages: 406 pages
Publisher: Rizzoli International Publications
Publication Date: 02/06/2014
Category: European history
ISBN: 9780847842766
Also by Corrado Augias