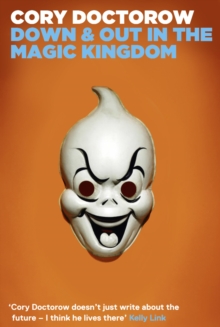 Down and Out in the Magic Kingdom
Paperback
Description
The prophetic debut novel from the visionary author fo LITTLE BROTHER, now published for the first time in the UK.Jules is a young man barely a century old.
He's lived long enough to see the cure for death and the end of scarcity, to learn ten languages and compose three symphonies ... and to realize his boyhood dream of taking up residence in Disney World.Disney World!
The greatest artistic achievement of the long-ago twentieth century.
Now overseen by a network of `ad hocs' who keep the classic attractions running as they always have, enhanced with only the smallest high-tech touches.But the ad hocs are under attack.
A new group has taken over the Hall of Presidents and is replacing its venerable audioanimatronics with new, immersive direct-to-brain interfaces that give guests the illusion of being Washington, Lincoln and all the others.
For Jules, this is an attack on the artistic purity of Disney World itself.Worse: it appears that this new group has had Jules killed.
This upsets him. (It's only his fourth death and revival after all.) Now it's war.
Information
Format: Paperback
Pages: 208 pages
Publisher: HarperCollins Publishers
Publication Date: 08/07/2010
Category: Science fiction
ISBN: 9780007327935
Free Home Delivery
on all orders
Pick up orders
from local bookshops
Reviews
Showing 1 - 1 of 1 reviews.
Review by AHS-Wolfy
27/08/2015
The future! Where death has been conquered, there's no scarcity, no work and no money either. But there's still Disney World and that's where Julius currently resides with his girlfriend Lil. He's joined the ad-hoc society that's keeping Liberty Square and Tom Sawyer Island running as it's always been running despite fresh interest in upgrading with the latest technology. That is until he gets murdered and while he's away getting restored from his last backup another ad-hoc has taken a run at the Hall of Presidents and their modern refurb has gone down a storm. Julius obviously suspects them of his murder and using the distraction to gain a foothold and thinks this new group will not be satisfied with just the Hall and the beloved Haunted Mansion could be next. Jules needs a plan to stop them and so enlists the aid of his newly arrived long-time friend Dan to put what he comes up with into action.The reader is dumped straight into this new world without much exposition to help come to terms with it. What's Whuffie and why does it matter if you've got none? Never fear as it all becomes clear if you just keep reading. (It's a way of keeping track of your current approval rating and with enough of it you can pretty much do anything you want to.) There are some grandiose ideas contained in this short (just about hits the 200 page mark) novel but the majority of them never really pass beyond germination as the story concentrates on the plot at hand with only a few diversions along the way. Unfortunately, this leads to garnering the reader with certain expectations with the setup of the book which are then not followed through with. It probably doesn't help that the main character is not really that likeable either but as this was the first published novel from the author then allowances can be made especially since I've already highly enjoyed one of his later works ([Little Brother]). Still, I'm not entirely disappointed that I've read it and it's a very quick and easy read.