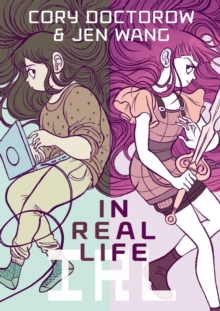 Description
Anda loves Coarsegold Online. The massively-multiplayer role playing game is a place where she can be a leader, a fighter, and a hero.
But things become a lot more complicated when Anda befriends a gold farmer - a poor Chinese kid whose job is to collect valuable objects and sell them to other players for real money.
This behaviour is strictly against the rules in Coarsegold, but Anda soon comes to realize that questions of right and wrong are a lot less straightforward when a real person's real livelihood is at stake.
From acclaimed teen author and digerati mogul Cory Doctorow and rising star cartoonist Jen Wang, In Real Life is a sensitive, thoughtful look at adolescence, gaming, poverty, and culture clash.
Information
Format: Paperback
Pages: 192 pages, full colour illustrations throughout
Publisher: Roaring Brook Press
Publication Date: 08/10/2014
Category: Comics and Graphic Novels
ISBN: 9781596436589
Free Home Delivery
on all orders
Pick up orders
from local bookshops
Reviews
Showing 1 - 5 of 19 reviews.
Previous | Next
Review by EuronerdLibrarian
16/06/2015
I'm no gamer, but I thought this story of human connection in a virtual world was pretty good. Great illustrations, too.
Review by Glennis.LeBlanc
16/06/2015
This is somewhere between a middle grade and YA book. A girl joins a MMO and gets into more than she bargained for. An online friend recruits her to help hunt down gold farmers in the game and get paid. As she is doing this she actually talks to one of them and finds out that lfe isn't so fun when you game for a living. When she learns about unions and strikes on TV and asking her Dad about some of it she gives this advice to the gold farmer and of course it doesn't work out. The plot does somewhat get a happy ending but it thought it just took the easy way to end it since it comes across more as a story with a moral rather than a good story. I do have to say that I liked the art in it and it did make up for some of my feelings about the story. <br/><br/><br/>Digital review copy provided by the publisher though NetGalley<br/>
Review by eduscapes
27/08/2015
IN REAL LIFE by Cory Doctorow and Jen Wang is aimed directly at young online game players who may be unwittingly drawn into the hidden world of virtual economics and illegal gold farming. In this compelling graphic novel for youth, Anda is faced with the real-life consequences of what at first seems to be a fun new online game. The book's cover does an exceptional job illustrating the dual worlds of online gaming and the real-world. Doctorow's powerful introduction to IN REAL LIFE provides an overview of the timely issues discussed in the book. From Minecraft for younger children to World of Warcraft for teens and beyond, Massively Multiplayer Online Role-playing Games (MMORPGs) are popular with youth. Recently, some of these online games have morphed into examples of living economics with millions of dollars of virtual merchandise being traded. Although many game developers have banned gold farming, it continues to be a real problem impacting both game play and the illegal activities often associated with taxation and labor issues. Cory Doctorow has tried to raise awareness of these issues in previous works like the short story ANDA'S GAME and novel FOR THE WIN. Jen Wang's beautiful, bold illustrations will appeal to the target audience. Her portrayal of authentic body-types in the real-world sequences and visually-rich fantasy elements in the gaming segments make the illustrations perfect for young people. The focus on girls-only gaming along with a thought-provoking message will make this graphic novel an outstanding addition to the growing number of works for youth that explore the fascinating world of online gaming.
Review by chensel477
27/08/2015
"It is not gender, nor age, nor race, but your ability to work hard at what you love." This is the overall theme of In Real Life, the new graphic novel by Cory Doctorow and Jen Wang that takes us into a virtual world with sixteen-year-old Anda, a bit of an outcast in the real world, but a fierce warrior and leader in her online gaming world.Anda is your stereotypical teenage "gamer girl". She's shown as a bit of an outcast, a little on the meek side, anerd, and a little chubby. She is recruited one day in school to join a new MMORPG (Massively Multiplayer Online Role Playing Game), Coarsegold as a probationary member of an exclusive guild for girls only. To the consternation of her mother, Anda is allowed to subscribe to the game on the condition that she only plays with other girls her age and has no contact with others, as mom fears online predators. Soon, however, Anda discovers that there are people working illegally as "gold farmers" in the game. They work to earn virtual money that they then sell to other players for real world cash. Anda and her friend Lucy, who likes to be called "Sarge" are sent on missions to kill these gold farmers in return for payment into their PayPal accounts.Things quickly change, however, when one day Anda meets Raymond, a Chinese gold farmer. They begin talking in the game and Anda finds out that he is her age, but works 12 hours a day in what amounts to a sweatshop earning gold for his company. when she learns that he has health problems and is often since, but cannot get medical treatment because of his company policy and nation's laws, she tries to seek help. She finds loopholes in the law, and encourages Raymond to take a job action, similar to a strike, to seek better treatment at the same time displaying a leadership and confidence she hasn't expressed in real life yet.A wrench is thrown into Anda's plans, and she loses her online access to the game for a time. At this juncture, she faces reality full force for the first time after meeting Raymond and learns that in most of the world, things are not fair nor what they seem to be and she works to find ways to right these wrongs.In this graphic novel, Cory Doctorow brings together all those elements that make him such a wonderful teen author. There is a lot to get excited about here. -- online gaming, a female protagonist who learns to grow strong, realistic interpersonal relations, and a dash of world economics and activism. Jen Wang's artwork adds beautifully to the story and without it, the whole concept of In Real Life would fall flat. The depictions of Anda are perfect, both in here real life self and that of her online avatar. The real Anda is a little nerdy and is shown as a larger girl who tries to hide it under sweatshirts, but she is never seen as shamed or shameful and that's brilliant. Her online avatar is the opposite, thin, lithe, a warrior with flowing bright red hair who fears nothing. In Real Life shows us that you can be anyone online, but that these online personas and feelings and friends can "cross over" into the real world as well. Anda's growth as a young woman in real life through her actions and friendships in the game are very evident and refreshing.The elements of world politics and economics, as well as class and culture addressed through the relationship of Anda and Raymond are well done. This is a short read, and as such, there isn't much background provided as to the working conditions in China, nor the healthcare and treatment of workers but Doctorow is able to give a nice snapshot and overview of this as a means of helping bring some awareness to the issues while at the same time, using it as the primary driving force for change in his story. Anyone looking for a very strong statement or call to action may be disappointed with In Real Life, but there is an opportunity and plenty of information presented for readers to do as Anda did and research these topics on their own to spread awareness.Overall, I thoroughly enjoyed In Real Life as a coming of age story with definite appeal to young adults who play online games, and especially girls who do so, as there are very few books that address them specifically and few role models for them to follow. A very quick read at a little under 200 pages, most can finish this in one sitting, as the action is fast paced and you will get lost very quickly in both worlds shown In Real Life.Four out of five stars.Many thanks to First Second, NetGalley, and Cory Doctorow and Jen Wang for the opportunity to read and review In Real Life early in exchange for an honest review. The final version will be released on October 14, 2014.
Review by pussreboots
16/06/2015
In Real Life by Cory Doctorow and Jen Wang is a graphic novel about MMORPGs. Anda, who loves video games is recruited to an all girl guild on Coarsegold Online. As long as she follows a few simple rules online (no bullying) and offline (no giving away personal information, no getting in the way of school work), then she can play.Anda, though, has to find her way through the world of Corsegold and she is befriended by a bounty hunter. Sure, there's a chance to make real world money (thus breaking one of her mother's rules), but doing so, requires killing gold farmers (characters who do nothing but collect valuable items, rather than earning them through quests).But Anda begins to see that there might be people behind the gold farmers. She gets curious — perhaps because she's such a new player herself. Thus begins her friendship with a particular gold farmer.Online interactions come with consequences in the real world. That's the message here. In Real Life isn't a warning against women being bullied online, it's a more general story about how online communities can bring people together, for positive or negative results.