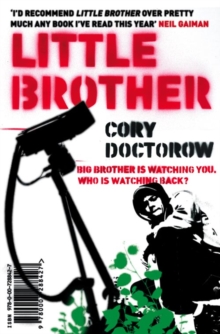 Description
The ultimate tale of teen rebellion - one seventeen-year-old against the surveillance state.Big Brother is watching you.
Who's watching back?Marcus is only seventeen years old, but he figures he already knows how the system works - and how to work the system.
Smart, fast and wise to the ways of the networked world, he has no trouble outwitting his high school's intrusive but clumsy surveillance systems.But his whole world changes when he and his friends find themselves caught in the aftermath of a major terrorist attack on San Francisco.
In the wrong place at the wrong time, Marcus and his crew are apprehended by the Department of Homeland Security and whisked away to a secret prison, where they're mercilessly interrogated for days.When the DHS finally releases them, Marcus discovers that his city has become a police state, where every citizen is treated like a potential terrorist.
He knows no one will believe his story, which leaves him only one option: to take down the DHS himself.
Information
Format: Paperback
Pages: 384 pages
Publisher: HarperCollins Publishers
Publication Date: 13/10/2008
Category: Science fiction
ISBN: 9780007288427
Free Home Delivery
on all orders
Pick up orders
from local bookshops
Reviews
Showing 1 - 5 of 7 reviews.
Previous | Next
Review by johnthefireman
16/06/2015
A very interesting and relevant book warning of the dangers of a state security apparatus that gets out of control, even in a democracy. Extreme measures are accepted by complacent citizens in order to keep us safe from "terrorists", but not only do the security organs cause us far more problems than the "terrorists" (the book rightly makes the point that despite the high visibility and high body count of a handful of "terrorist" events, statistically the danger from "terrorism" is minute), but in fact they also fail to catch the "terrorists". And in making the complacent majority feel safer (although not making them any safer in reality as the "terrorists" are still out there, uncaught), a great number of the poor, young, marginalised, different, thoughtful, concerned, caring citizens are victimised by the same state security organs which are supposed to be protecting ALL citizens - aren't they? Of course in the book there are heroes who take on the establishment. I have no idea whether all the technical computer-related stuff is feasible, but it certainly makes for a good story and is understandable enough (and where it isn't understandable it doesn't really matter)."Quis custodiet ipsos custodes?"
Review by SonicQuack
16/06/2015
Little Brother is nothing if it's not cutting edge. It's a tale set in San Francisco, where the central character must fight to stay free from a multitude of mechanisms and people who wish to infringe his freedom. Any locked down culture, which has previously enjoyed freedom will be compared to Orwellian visions, and the same applies to Little Brother. This then, is the update for the new millennium - fresher, more hi-tech, and written in an accessible way, Little Brother is a solid tale of freedom vs. oppression for young adults upwards, full of emotional and compelling characters. It's a little long, when there's no definitive end in mind, but that doesn't stop Little Brother from being a page turner. Certainly a recommended read, suitable for fans of any genre.
Review by ravenfire
16/06/2015
The ultimate book for political geek conspiracy theorists3 chapters in I couldn't put it down. It starts fairly light and fun and even though you know it's not going to stay that way, when the bomb finally does drop (no pun intended) you really don't expect it. Emotionally it hit me a lot like I imagine it hit the kids.I really thought when I read the description before starting the book that it would be less realistic, more like 1984 which I knew it to be based on. However, by chapter 5 I realized that this was a story that not only could happen in the US today but probably has. It takes us from the place we're at now to where we could potentially be going very soon.The description of what it's like to write code at the end of chapter 7 was beautiful and encapsulated the feeling so well. My only complaint is that I would have liked to have seen more of Van and Jolu but at the same time completely understand the roles they play.A highly recommended read.
Review by cybergeist
16/06/2015
Really good and thought provoking read - a great and slightly scary story of the current erosion of our civil liberties being taken to an extreme, written by an author who obviously cares deeply about these issues - and best of all there's a free PDF available online at : craphound.com/littlebrother/Cory_Doctorow_-_Little_Brother.pdf
Review by fladdle
16/06/2015
This thriller kept me on the edge of my seat, despite (?) the clear descriptions of various tech systems. Marcus and his friends are found in a suspicious place when The Bay Bridge (SF) is blown up. They are roughly and secretly whisked away by the Department of Homeland Security, separated, interrogated and eventually released with a threatening warning. Great action, tension and plot.