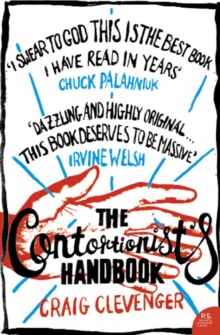 The Contortionist's Handbook
Paperback
Description
A stunning novel about a brilliant young forger who continually reinvents himself to escape the authorities, described by Chuck Palahniuk, bestselling author of FIGHT CLUB, as 'the best book I have read in easily five years.
Easily. Maybe ten years.'Following a near fatal overdose of painkillers, Daniel Fletcher is resuscitated in a Los Angeles emergency room and detained for psychiatric evaluation.
Through a series of questions and tests, the psychiatrist must ascertain whether the patient intended to kill himself, or whether he can walk free.
What the psychiatrist doesn't know is that 'Daniel Fletcher' is actually John - Johnny - Dolan Vincent, a brilliant young forger who continually changes his identity to save himself from a lifetime of incarceration.
Johnny has done such assessments before - many, many times.As he creates an elaborate bluff for the evaluator, Johnny reveals the true story of his traumatic past - a broken family, descent into the sinister world of forgers and criminals, and his one chance of salvation in the beautiful and elusive Molly.
But time is running out; as his underworld clients lose patience and the psychiatrist's net closes around him, Johnny has to negotiate the escape act of his life.Evoking the boulevards and strip bars of 1980s LA with cinematic intensity, The Contortionist's Handbook is a darkly hypnotic and stunningly original debut.
Information
Format: Paperback
Pages: 208 pages
Publisher: HarperCollins Publishers
Publication Date: 02/05/2006
ISBN: 9780007194155
Other Formats
EPUB from £4.24
eAudiobook MP3 from £11.72
Free Home Delivery
on all orders
Pick up orders
from local bookshops
Reviews
Showing 1 - 2 of 2 reviews.
Review by bettie
16/06/2015
This book is brilliant. Really, really brilliant. We are taken on a journey to discover the twists and turns of the life of Johnny, Daniel, Eric, Steven... or whatever his name happens to be today. Another day, another psychiatric assessment.
Review by Rynooo
16/06/2015
Reasonably enjoyable until you tire of the repetitive "how to forge a [form of ID]" rhetoric.The protagonist (a mutant, drug-addled, migraine-inflicted Holden Cauldfield clone) is unlikeable, the prose is pretentious and self-referential and the plot isn't nearly as clever as it likes to believe, relying primarily on the narrator's ambiguous vernacular.The supposed "twist ending" as promised by the blurb on the back cover is frankly a cop-out, given that the storyline it concerns doesn't even develop until the last quarter, and is an aside from the central theme of the book. Thrown in for shock value but missing the mark it leaves the reader thinking "what was the point?" The bad guys aren't bad enough: the "system" is simply an inconvenience for our delinquent anti-hero and the "gangsters" are elusive to the point of being non-threatening.Clevenger shows potential with his debut but is trying too hard to be Palahniuk.