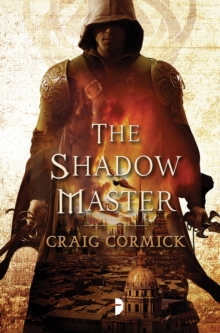 Description
In a land riven with plague, in the infamous Walled City, two families vie for control - the Medicis with their genius inventor Leonardo; the Lorraines with Galileo, the most brilliant alchemist of his generation. And when two star-crossed lovers, one from either house, threaten the status quo, a third, shadowy power - one that forever seems a step ahead of all of the familial warring - plots and schemes, and bides its time, ready for the moment to attack -
Information
Format: Paperback
Pages: 432 pages
Publisher: Watkins Media
Publication Date: 18/06/2014
Category: Fantasy
ISBN: 9780857665140
Free Home Delivery
on all orders
Pick up orders
from local bookshops
Reviews
Showing 1 - 3 of 3 reviews.
Review by LibStaff2
16/06/2015
A good premise but the ending is a little confusing. The first half of the book strongly reminds me of Romeo and Juliet, but with two different feuding families and a historical scientist in each corner. Both camps have pretty cool supernatural machines. Then a few interesting characters (an aging musketeer and a cult leader) are introduced. But just as the story pulled me in, I fell down the rabbit hole. The last part of the novel has lots of potential but the reader needs to have a clearer idea of what's going on (unless you prefer the rabbit hole).The cover is awesome.Net Galley Feedback
Review by stefferoo
16/06/2015
I wish I could write a more positive review for this book, I really do. The Shadow Master has so much going for it, including a setting resembling an alternate-history Renaissance Italy, with just a touch of that steampunk flavor with its clockwork inventions and automatons. We also mustn't forget the biggie for me – a plot thread about a pair of star-crossed lovers separated by the warring between their families. I do get a kick out of forbidden love. This book just seemed made for me, and indeed I liked a lot of its separate parts. I'm just not sure how well I liked the whole.If the book's description didn't make you think it already, then I'm sure its epigraph "A plague a' both your houses!" certainly would – the basic plot is very much reminiscent of Romeo and Juliet. However, this is not a romance. In fact, one of my biggest disappointments was not feeling any connection at all between the two young lovers: Lucia, daughter of the Duke of House Lorraine and Lorenzo, whose loyalties lies with the House Medici. With the two families at each other's throats, the future of Lucia and Lorenzo's relationship hangs in the balance, but without first being convinced of their bond, I found it hard to stay interested. Their love story, which should have served as the starting point and foundation of the novel, didn't initially captivate me, and as a result the rest of the story failed to deliver the desired impact.But as I'd alluded to, there were quite a few things I enjoyed about this book. I enjoyed the appearance of several historical figures including Galileo and Leonardo Da Vinci, even though they weren't contemporaries, but their "war of the wits" gave the Medici vs. Lorraine battle a certain fantastical flare. Both are reluctant geniuses caught in the conflict between the Houses, receiving pressure from their leaders to design and build magical inventions that would give their side the advantage. The city is also threatened by plague, a problem literally at its doorstep as hordes of the sick and dying amass outside the gates. The first half of this book was quite engaging for these reasons.Around the 60% mark, however, events of the story suddenly made a turn for the confusing. Kidnappings and assassination attempts and negotiations become entangled in mystical machines, madmen and ancients. The events were so jumbled and disconnected that I'm still a bit uncertain as to what really happened. I think the language and the author's writing style might have also made following the story a little more difficult. I didn't click with some of the dialogue between characters spoken in riddles, and at times the prose also had a tendency to feel overly embellished with the use of euphemisms, especially during moments of intensity. Torture scenes or sex scenes were made incredibly awkward by terms like "serpent of sin", "tower of ivory", "fountain of relief", "cave of wonders" and "mountains of the goddess". There was speculation between me and another blogger that some of these were done purposely for the sake of satire, which I admit was something that hadn't occurred to me. It's possible, I suppose, though if that's the case it's not presented in a very obvious manner.If the last half had been tightened up and more clear and consistent, I might have enjoyed The Shadow Master a bit more, but as it is, the book feels slightly unfinished and rushed. I had pretty high hopes, but in the end this one just didn't work very well for me.
Review by Isisunit
16/06/2015
I would like to thank NetGalley &amp; Angry Robot for granting me the opportunity to read this e-ARC in exchange for an honest review. Though I received this e-book for free that in no way impacts my review. I give this book 2.5 stars, but in systems that only allow whole numbers I'm not comfortable rounding up, so it will get 2 stars.<blockquote>In a land riven with plague, inside the infamous Walled City, two families vie for control: the Medicis with their genius inventor Leonardo; the Lorraines with Galileo, the most brilliant alchemist of his generation. And when two star-crossed lovers, one from either house, threaten the status quo, a third, shadowy power – one that forever seems a step ahead of all of the familial warring – plots and schemes, and bides its time, ready for the moment to attack...Assassination; ancient, impossible machines; torture and infamy – just another typical day in paradise.</blockquote>Wow. What to say about this book? This story had so many different things going on that at times I felt lost, not necessarily understanding the relationships or motivations of some of the players. Clearly there are many themes during the Renaissance period that have been approached with a truckload of artistic license. Examples include the feuding between the Medicis and the Lorraines, (possibly a reference to the House of Lorraine?), a spin off of <em>Romeo and Juilette</em>, the Walled City, the High Priest Savonarola, and naming a pivotal Councilman Sforza. But then who are the Nameless One and the Shadow Master supposed to be a riff on?This book does take a bit of effort to read in the beginning, but once you've read maybe 10 percent it gets easier to make sense of all the different threads being woven in to create the greater story. Yet it remained somewhat of a challenge for me, based upon my rough knowledge of history, as seen below.The Medicis sponsor Galileo, while the Lorraines sponsor Leonardo (despite what the Goodreads blurb above states). They never give last names, but clearly are referring to Galileo Galilei and Leonardo da Vinci. The two ruling Houses are constantly trying to supplant the other and take complete control of the city, totally disregarding the City Councilmen and their City Guard. They each try to gain advantage by using devices that their resident inventors create. Yet both Galileo and Leonardo refuse to invent/remake anything that the 'ancients' created - anything warlike, for they believe that is how all the knowledge of the ancients was lost. Yet some of the machines of the ancients are also references to works by Galileo and Leonardo, but that may make sense in light of the the ending.There is an attack on the two Medici brothers early on which took place while they were leaving church. That could almost be lifted straight out of history books, for there was once a conspiracy to depose the family by killing Lorenzo and his younger brother Giuliano during Easter services. Both assassination attempts, real and fictional, ended the same. In retaliation Cosimo hires the Nameless One to kidnap and hold the Lorraines' only child, a daughter named Lucia. And here is where things begin to get a bit strange, for I don't know what to make of the Nameless One throughout the entire book.Meanwhile the rest of the world is being ravage by a deadly plague. The Walled City is the only plague-free place left known in the modern world. The Walled City was most likely Verona, particularly as that was one of the two settings for Shakespeare's <em>Romeo and Juiliette</em>, which is clearly used as the model for the relationship between Lorenzo, who is Medici-sponsored Galileo's assistant, and Lorraines' daughter, Lucia.Since the Walked City is rumored to be plague-free, it becomes a Mecca for all those with the plague. There is a daily lottery to allow a few of the hundreds of supplicants into the City. The plague itself is possibly meant to reflect something else on another level, and all I can come up with is a sending from God (based upon my very loose interpretation of the end of the book). What is being done to those that win the lottery to enter the Walled City is another mystery to me. Again I am sure that there is more going on here than I am getting, but what it makes me think of is <em>The Island of Doctor Moreau</em>. Maybe I'm reaching, but that's where my mind went upon reading some passages.Of course between the two ruling Houses battling for supremacy, the City Guard being overwhelmed by the growing number of plague victims gathering at the gates, we also have a crazed religious faction to deal with. And it certainly seems that the character is based upon friar Savonarola. Granted that is the name of the Church's High a Priest, but in one of his final scenes something happens that runs perilously close to the real Savonarola, who later in life (and under torture) confessed his visions and prophecies were made up and was put to a 'trial by fire.'One of his alycotes, Councilman Sforza, turned traitor. Of course in reality the Sforza family was at one point against the Medici family, then married into it later on, and in reality one of the Sforza's one took in Leonardo da Vinci for a time. So much back and forth between fiction and fact that I found myself getting confused, even when things weren't taking place in the correct era.There are plenty of humorous moments, and silly suggestions, such as Duke Lorraine thinking to himself that someday, when the strife is behind them, he could get Leonardo to paint a portrait of his beautiful Lucia and her mysterious smile. And the metaphors are often entertaining, especially if you've ever read a romance novel or two. Finally, some new metaphors for the genitalia of both genders - and they are funny!I don't completely understand the end of this book. I feel sure that there is something more going on in the end between the Shadow Man, Lorenzo, and Lucia, than is explained. Sadly my mind is drawing a blank at the moment, other than thinking it may be referencing a religious event or two. Certainly the changes in the city speak to a higher event, but I'll hold my pen so as not to spoil it for you. I find that I am left wondering what the real meaning of the ending is meant to be? Is it whatever we takeaway? Or are we supposed to draw parallels for different events and therefore get a deeper meaning? If so, I'm sorry to say I failed.