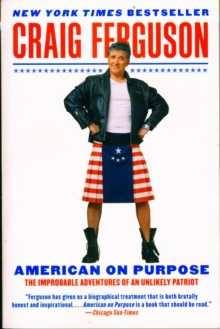 American on Purpose : The Improbable Adventures of an Unlikely Patriot
Paperback
Description
In American on Purpose, Craig Ferguson delivers a moving and achingly funny memoir of living the American dream as he journeys from the mean streets of Glasgow, Scotland, to the comedic promised land of Hollywood.
Along the way he stumbles through several attempts to make his mark-as a punk rock musician, a construction worker, a bouncer, and, tragically, a modern dancer.
To numb the pain of failure, Ferguson found comfort in drugs and alcohol, addictions that eventually led to an aborted suicide attempt. (He forgot to do it when someone offered him a glass of sherry.) But his story has a happy ending: success on the hit sitcom The Drew Carey Show, and later as the host of CBS's Late Late Show.
By far Ferguson's greatest triumph was his decision to become a U.S. citizen, a milestone he achieved in early 2008.In American on Purpose, Craig Ferguson talks a red, white, and blue streak about everything our Founding Fathers feared.
Information
Format: Paperback
Pages: 288 pages
Publisher: HarperCollins Publishers Inc
Publication Date: 11/05/2010
Category: Individual actors & performers
ISBN: 9780061998492
Free Home Delivery
on all orders
Pick up orders
from local bookshops
Reviews
Showing 1 - 5 of 11 reviews.
Previous | Next
Review by oregonwmn
16/06/2015
I like Craig Ferguson. I rarely see his show, but when I do, I always enjoy it. I have seen a couple of his movies. I am not sure why I downloaded his book American on Purpose: The Improbable Adventures of an Unlikely Patriot, but I am sure glad I did. Mr. Ferguson is an interesting guy. He wrote from the heart and told the good and bad of his life's journey. The book was candid and flowed well. I would recommend this book if you like Craig Ferguson or even if you don't. It is a very interesting read about a boy with a dream and how he made that dream come true. Sure he screwed up along the way, but determination and hard work (and a "bit of luck") got him to where he is today.
Review by arnett4388
16/06/2015
I really enjoyed this book, it wasn't a laughing out loud book, it was a more serious tale of Craig's life. I like him alot and I like his show, and I enjoyed reading about his life.
Review by thediaryofabookworm
16/06/2015
An off the cuff birthday present from the hubby, American on Purpose landed in my lap without my even knowing it existed. I'm a big Craig Ferguson fan, and I love the Late Late show but am generally far to old, responsible and sleepy to stay up for it these days (I mean it doesn't start until midnight local time out here). So I missed any mention of him writing a biography.Well lucky me! Because what a terrific, surprising read it was.Obviously I've been on a huge YA bender lately, barely mixing it up with the occasional Middle school book and the even more occasional historical book. But I tossed everything to the side for Craig and jumped right in to it. Refreshing, hysterical, completely honest without being awful to those he's hurt in his life, Craig tells the story of his childhood in Scotland, his alcholism, his struggles with employment etc. right up until nowish in his life. It was oddly uplifting, I mean he's come out pretty good, and gosh, if he can clear through 250,000$ + of debt then the rest of us should be able to deal with whatever paltry sums we have owing on homes, student loans, credit cards etc. right?! More than anything though he made me laugh out loud, a lot. And that's an accomplishment with a book, few are funny enough to get passed the grin stages and into the embarrassing guffaws in public. But if I wasn't laughing I was almost always smiling, even his bad times are filled with stories of the great people who cared enough to help him and the positive funny things that happened.So if your stuck in a rut with your reading, or if you love Craig Ferguson, or even if you just want to laugh out loud, I highly recommend you pick up American on Purpose today.
Review by richardderus
16/06/2015
The Book Report: Scottish prole grows up in emotionally chilly, physically cold as hell Glasgow, turns to drugs and alcohol to fill gaping emotional void, screws over a variety of people as all alkies do, and one day wakes up to learn he doesn't like himself, his life, or his future. Rehab, restitution, success, and true love follow.My Review: I herewith confess: If Craig Ferguson was even a teensy hint queer, I'd be on a plane to Cali and camped on his doorstep with flowers, candy, and a leg iron. He amuses and impresses me even more after reading his pretty darned candid memoir.I'm a complete pushover for a man in a kilt anyway, but when he can act and tell jokes the way this man can...! Ferguson, the host of "The Late Late Show," made me laugh so hard I cried when he said of his son's mother: "No, really, she's a lovely woman. For legal purposes." I heard nothing of his show for the next five minutes because I was shouting with laughter, and Mr. Man was a little put out that I kept referring to that line (okay, I shamelessly stole it, and I still use it, and unless I get a cease-and-desist letter I'm gonna keep right on) to the point of having a jealous fit. (Thanks, Craig!)I am also a sucker for men who come to the USA with dreams of success and end up in love with our amazing, incredible, flawed, imperfect, conservatism-ridden paradise. Ferguson fell in love with the USA in its warty glory, and he rightly credits this astonishingly open society with a goodly measure of his own success. His talent plays an acknowledged role, but he makes sure to tell his readers that his life wouldn't be possible anywhere else. It's very heartening to me, and it's an instructive reminder that, problems and blemishes be damned, the rest of the world rightly and justly thinks we're on to something here.Lastly, but far from least, I'm a complete sucker for a good story told by a good storyteller, and this book most certainly is that. Ferguson can't resist telling tales, no doubt polishing them up a wee bit, but not always in his own favor. He can't resist making light of things that sink many an alkie person's life, and sank his own, and thus takes the ponderousness out of the idea of recovery. I've read a fair bit of recovery literature but I'm always fatally put off by the earnest, well-meaning "Amazing Grace"-ness of it all. A person's personal spiritual awakening is, and should remain, just that: Personal. In other words, BELT UP ABOUT JESUS. Ferguson not only does, he makes it clear that he has a BIG problem with religion. *swoon* My lands, just when I thought he couldn't get more magnetically, hypnotically gorgeously attractive!So should others read this? Yes. It's fun, funny, and touching; it's honest and it's gritty; and in the end, it's a pleasure to get to know Craig Ferguson as well as if he were the bloke on the barstool next over.
Review by tututhefirst
16/06/2015
Alright, I'll admit it, I'm a sucker for a man in a kilt. The cover of this one grabbed my interest; several of my LT friends recommended it highly, and the scottish accent was a big draw.Craig Fersugon, currently the host of the LateLate Show on CBS, was born in Scotland. Listening to him read his delightful memoir, one has no doubt about his origins. He speaks easily, eloquently, poignantly of his childhood and adolescence - his less than stellar record in the educational system, and his early start at drinking alcohol. Needing some type of employment, he joined on with a punk band as a drummer. The drummer skill set stays with him to this day.In the story, he takes us through years of drinking, drugging, bouncing from job to job, woman to woman, sleeping on friend's floors to buying a house in the country with a very wealthy woman. We accompany him through 3 unsuccessful marriages and several other romantic relationships.He drops many names, not in a name-dropping fashion, but more to establish opportunities received and often blown. He drifts back and forth from Scotland to London to the US and back again. Finally, he lands in a very expensive re-hab unit outside of London. Unlike many other "I found religion when I gave up the bottle" memoirs, he tells this part of the story very matter-of-factly, and without the excruciating detail many such stories subject the reader to. While he is brutally honest about his failures, he is deeply apologetic about the havoc wreaked and the lives injured over the years. He is justly proud of his now 17+ years of sobriety--it took him over 7 years to pay off debts he owed to a long line of friends.His career since coming to the US in 1993 has steadily improved. He is now a writer, an actor, a producer and director. He is very proud of becoming an American citizen and speaks powerfully of why he is. He recognizes that the U.S. is not a perfect place to live, but still wouldn't be anyplace else. He is even more proud of his life- having his own show on CBS, living a sober life, and being ---finally-- a loving husband and father. He still remembers with great affection the giant color poster he received from NASA when he was a child and wrote to say he wanted to be an astronaut. It was this first touch with American in fact, that put the idea into his head that he wanted to go to America.In short, this is a story worth reading. The language can be a tad raw, but it is true to who the author is. If you really want the full flavor, I'd recommend the audio format. Listening to him read the story truly brings it alive. It is laugh out loud funny, inspiring, and memorable. He explains in the ending paragraphs exactly what being an American means to him. America truly is the best idea for a country that anyone has ever come up with so far, not only because we value democracy and the rights of the individual, but because we are always our own most effective voice of dissent...we must never mistake disagreement between Americans on political or moral issues to be an indication of their level of patriotism. If you don't like what I say or don't agree with where I stand, then good....I'm glad we're in America and don't have to oppress each other over it. We're not just a nation, we're not an ethnicity, we are a dream of justice that people have had for thousands of years. Americans taught me failure was only something you went through on your way to success. For me becoming an American was not a geographical or even political decision. It was a philosophical and emotional one based on a belief in the reason and fairness of opportunity.
Also by Craig Ferguson