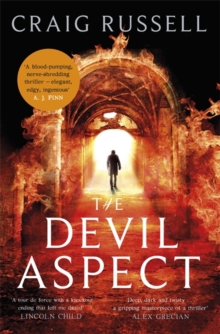 The Devil Aspect
Hardback
Description
'A blood-pumping, nerve-shredding thriller . . . ingenious'(A. J. Finn, author of The Woman in the Window) How do you find a killer when you're surrounded by madness?1935.
As Europe prepares itself for a calamitous war, six homicidal lunatics - the so-called 'Devil's Six' - are confined in a remote castle asylum in rural Czechoslovakia.
Each patient has their own dark story to tell and Dr Viktor Kosarek, a young psychiatrist using revolutionary techniques, is tasked with unlocking their murderous secrets.
At the same time, a terrifying killer known as 'Leather Apron' is butchering victims across Prague.
Successfully eluding capture, it would seem his depraved crimes are committed by the Devil himself. Maybe they are... and what links him with the insane inmates of the Castle of the Eagles?Only the Devil knows. And it is up to Viktor to find out. 'Deep, dark, and twisty, The Devil Aspect will keep you up all night reading...
With all the lights on. Russell has created a gripping masterpiece of a thriller!' Alex Grecian, New York Times bestselling author of The Yard'A blood-pumping, nerve-shredding thriller - elegant, edgy, ingenious.
Craig Russell conjures not one but two unforgettable settings: Prague between the wars, pulsing with menace, and a Gothic mental asylum, as exciting a house of horrors as I've ever visited.
You'll enter both with dread. You'll dwell in them with relish' A. J. Finn, New York Times bestselling author of The Woman in the Window'Sensational serial killer novel . . . in which twists are both jaw-dropping and logical . . . a mind-blowing story line that will appeal to fans of Caleb Carr and Thomas Harris' Publishers Weekly'Steeped in the chilling folklore of Eastern Europe and echoing the dread of a barbaric war to come, The Devil Aspect snatches the reader by the lapels for a thrilling, twisting trip through the darkest corridors of the human mind' Daniel H.
Wilson, New York Times bestselling author of Robopocalypse'A tour de force: a clever and visceral thriller . . . an ending that left me dazed' Lincoln Child, New York Times bestselling author'Dark, stylish and packed with jaw-dropping twists, The Devil Aspect stayed with me long after I'd turned the final page.
Part Gothic horror, part crime thriller, it's an astonishing piece of work' M.
W. Craven, author of The Puppet Show'A superior thriller, at once stylish, absorbing and compulsive . . . a taut and chilling tale, expertly crafted . . . I was gripped from the very first page right up to that haunting denouement' Laura Carlin, author of The Wicked Cometh 'Well-crafted gothic crime . . . A smart, atmospheric and entertaining read' Kirkus Reviews'A Gothic masterpiece in psychological horror and creeping dread, The Devil Aspect is as disturbing as it is compelling.
Be prepared to read it in one sitting - and to sleep with the lights on for a long time to come' Neil Broadfoot, author of No Man's Land'Deliciously authentic and darkly atmospheric . . . a game-changer for the world of crime fiction' Graham Smith, author of Death in the LakesJoin other readers in discovering the The Devil Aspect'A fabulously gothic tale . . . I was reminded of the writing of Bram Stoker and Robert Louis Stevenson' Netgalley Reviewer'An astonishing virtuoso piece of gothic horror writing. This is a must read for all fans of literary fiction, great crime and horror writing' Netgalley Reviewer'Skilfully written and richly imagined' Netgalley Reviewer'Details are doled out in delicious morsels . . . the prose is extremely cinematic with intense and provocative images' Netgalley Reviewer'Sophisticated, polished . . . the story has a decidedly Gothic feel' Netgalley Reviewer'Fascinating, compelling, horrifying' Netgalley Reviewer'I would be shocked to see this not made into a movie' Netgalley Reviewer'A kaleidoscopic melange of myth, history, politics, bigotry, psychology, romance, crime, mystery and sublime horror' Netgalley Reviewer'A stunning historical thriller' Netgalley Reviewer'This book scared the hell out of me . . . the ending blew me away' Netgalley Reviewer
Information
Format: Hardback
Pages: 496 pages
Publisher: Little, Brown Book Group
Publication Date: 07/03/2019
Category: Thriller / suspense
ISBN: 9781472128355
Save 25%
Free Home Delivery
on all orders
Pick up orders
from local bookshops