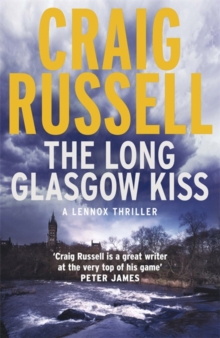 The Long Glasgow Kiss : Lennox 2
Paperback
Part of the Lennox series
Description
'The kind of thriller writing that made me want to be a writer' Chris BrookmyreFast-paced and blackly funny noir for fans of Philip Kerr and Raymond ChandlerGlasgow in the 1950s - private investigator Lennox is keeping a low profile, enjoying a fling with the daughter of shady bookie and greyhound breeder MacFarlane.
When MacFarlane is found bludgeoned to death, Lennox is a suspect.
Luckily, he has a solid gold alibi - he was in bed with the victim's daughter at the time.
It turns out MacFarlane was into some seriously dodgy stuff.
One of Glasgow's notorious Three Kings, crime boss Willie Sneddon, is involved and he's not a man Lennox wants to cross.
But there's an even bigger player out there, an elusive villain who makes the Three Kings look like minnows.
Lennox is going to get his fingers burnt, badly.
Information
Format: Paperback
Pages: 352 pages
Publisher: Quercus Publishing
Publication Date: 28/04/2011
Category: Crime & mystery
ISBN: 9781847249708
Free Home Delivery
on all orders
Pick up orders
from local bookshops
Reviews
Showing 1 - 3 of 3 reviews.
Review by devenish
16/06/2015
This is the second of the books featuring PI Lennox, which is set in 1950's Glasgow. As those who have read the first book will know,the central character is a tough guy in a tough city. In many ways he is akin to Raymond Chandler's Philip Marlowe. (Hard in many ways,but with a soft centre) The underworld of Glasgow is controlled by 'The Three King's',who are three very different but equally hard men. Lennox on occasion does work for one or other of these crime bosses,as well as more legit jobs too. One of these jobs is to find the brother of an up and coming female singer and soon the legal work gets entangled with the more dodgy sort. As usual our friend Lennox takes on rather more than he can easily deal with and finds himself in trouble with both the police and with various low-life too.A good swift-moving thriller which will please most readers and only annoy the Glasgow Tourist Board.
Review by magentaflake
16/06/2015
P.I. Lennox, Canadian stayed in Glasgow after WW2. Sometimes works for criminals. Exciting read.
Review by quiBee
27/01/2016
Lennox is an ex-Canadian soldier who has ended up in Glasgow after the second World War. He's now a private eye and often does rather shady work for the criminal element in Glasgow.<br/>In this story, he's looking into two mysteries--one, a missing young man who may have been involved in some shady dealings. The other job is looking into what looks like intimidation of a fighter one of the "kings" of Glasgow's underworld has an interest in.<br/>This is a well-written, atmospheric story with a great sense of time and place.<br/>It is also extremely well narrated.