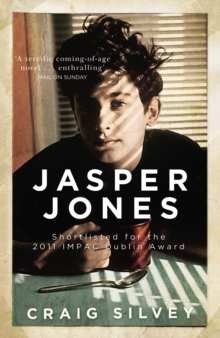 Description
NOW A MAJOR MOTION PICTURE STARRING TONI COLLETTE AND HUGO WEAVING Summer, 1965. Late one night, thirteen-year-old Charlie Bucktin is startled by a knock on his window.
His visitor is Jasper Jones. Rebellious, mixed-race and solitary, Jasper is intriguing. And he needs Charlie's help. In the dead of night, the boys steal through town, and Charlie learns of Jasper's horrible discovery.
Burdened by a terrible secret and the weight of a town's suspicion, Charlie feels his world closing in.
After this summer nothing will ever be the same again.
Information
Format: Paperback
Pages: 304 pages
Publisher: Cornerstone
Publication Date: 29/04/2010
ISBN: 9780099537540
Other Formats
EPUB from £4.99
eAudiobook MP3 from £8.80
Free Home Delivery
on all orders
Pick up orders
from local bookshops
Reviews
Showing 1 - 4 of 4 reviews.
Review by Lidbud
16/06/2015
Jasper Jones by Craig SilveyCharlie Bucktin has a terrible secret. One hot night, Jasper Jones the town outcast - part aboriginal and universally despised comes to his window. Charlie is thirteen, clever, bookish and doesn't really fit in in the mining town of Corrigan, a rather unlovely place where racism and prejudice run deep. Jasper has witnessed some thing terrible, and he needs Charlie's help. Charlie and Jasper are both tormented with guilt following Jasper's awful discovery, and the town is filled with suspicion. During the summer, he comes into conflict with his mother, and falls in love for the first time. Some of the best scenes in the book take place between Charlie and his friend Jeffrey Lu. Jeffrey is witty, clever, and great at cricket, but he is also Vietnamese, and this is 1965, and young Australian men are being sent to Vietnam. As the anger in the town simmers, Jeffrey's family are easy targets. Despite the sometimes grim subject matter, this is not at all a grim or depressing book. Silvey has a lightness of touch, writes great dialogue and his three-dimensional characters almost jump from the page.Highly recommended.
Review by SamuelW
16/06/2015
If you are a young Australian male about to read <i>To Kill a Mockingbird</i>, don't. Read <i>Jasper Jones</i> instead. Or, if your English teacher insists, read both. This book does for Australia what Harper Lee's classic novel does for America. It delivers the same plot elements – the young protagonist, the small town community, the dark-skinned outcast, the infamous recluse – and explores the same themes – racism, loss of innocence, courage, secrecy – all transposed into a quintessentially Australian setting and narrated with absorbing energy, authenticity and humour. There will be something in this novel for every Australian reader to relate to. Silvey's prose captures the internal narrative of adolescence perfectly, right down to the last flutterings of anxiety and speechlessness when confronted with a member of the opposite sex. His characters are as realistic as they are charismatic, and their dialogue is read-out-loud, laugh-out-loud gold. Charlie's best friend, Jeffrey Lu, deserves a special mention in this department.Whatever Silvey does, his short, sharp and distinctive narration brings his reader right up close to the action. His cricket game scene is recounted with such tension and excitement that even readers who couldn't care less about cricket will be glued to the page. Every emotion is contagious, every idea is thought provoking, every trial and trouble is riveting. The blending of literary depth and narrative force is a rare joy. The entire novel just <i>works</i>.While the material may not be new, Silvey's writing manages to avoid any feeling of retreading old ground. Mad Jack Lionel, who might otherwise have been a familiar and one-dimensional character, is well presented in the few short scenes the plot can afford him. Even the inevitable feel-good moments are more complex than one might expect. Silvey treads the line between literature and popular fiction, but never lets the quality of his writing slip for a moment, defying any attempts to pigeonhole his work as a mere rehashing of familiar plot devices and themes.Having just finished <i>Jasper Jones</i>, I am seized by an uncontrollable urge to read it again – which is a problem, as I have an equally strong urge to immediately lend it to everyone I know. I am still unsure which urge will win.
Review by teresa1953
16/06/2015
Almost an homage to "To Kill A Mockingbird", this book has a great storyline. I found it a little difficult to get into at the start, but "Jasper Jones" became a page turner about a quarter of the way through. The eponymous Jasper is the town's bad boy who gets the blame for everything untoward that happens and he seeks out Charlie's help on the discovery of a tragic event. There are fine depictions of early love, racial tension and small town bigotry. I loved the banter between Charlie and Jeffrey and it was a fine illustration of life in mid 60s Australia. A bit far fetched in places, but no less charming for it.......I recommend this book wholeheartedly.
Review by presto
16/06/2015
Japser Jones, half Aborigine is regarded as the terror of Corrigan, a small town in Australia. When one night he taps on the bedroom window of Charlie Bucktin, it heralds the beginning of Charlie's rite of passage into new person. Although the two boys have never spoken before, the slightly older Jasper recognises in Charlie an honest and sensitive nature, someone he can trust with hie terrible dilemma, and someone who will help him.Charlie, nearly fourteen years old, narrates the story. Charlie and his Vietnamese friend, the diminutive Frederick Lu, despite the latter's prowess at cricket are not part of the in-crowd at school; Frederick's race and Charlie's intelligence and interest in books and writing set them apart. But the two are close friends, and the good natured banter, liberally peppered with insults, the two enjoy is a pleasure to read.The story weaves between Charlie's shared plight with Jasper, his friendship with Frederick, Frederick's goal to be accepted into the cricket team, and Charlie's budding romance with a young girl not unconnected to Japser's problem.Japser Jones is a story of friendship and loyalties, a thriller, and a coming of age story. It is full of humour and has plenty of drama. Silvey prose reads with great ease. He has created memorable characters especially in both Jasper and Frederick. His description of the closing action in the cricket match is a minor masterpiece, perfectly capturing the tension and excitement (even for someone who has not interest whatsoever in the game of cricket).If I have a complaint it is that Craig Silvey occasionally gets on his hobby horse, and at times gets dangerously close to begin guilty of the very same thing he clearly abhors, he needs to do a little more homework before making generalisations.That aside Japser Jones is a delightful story with some very likeable characters, it has to be highly recommended.
Also by Craig Silvey