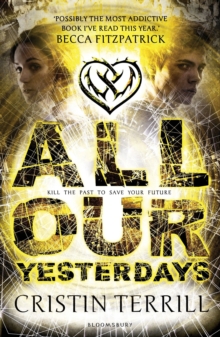 All Our Yesterdays
Paperback
Description
A brilliantly brain-warping thriller and a love story that leaps back and forth in time - All Our Yesterdays is an amazing first novel, perfect for fans of The Hunger Games.
Em is locked in a bare, cold cell with no comforts. Finn is in the cell next door. The Doctor is keeping them there until they tell him what he wants to know.
Trouble is, what he wants to know hasn't happened yet.
Em and Finn have a shared past, but no future unless they can find a way out.
The present is torture - being kept apart, overhearing each other's anguish as the Doctor relentlessly seeks answers.
There's no way back from here, to what they used to be, the world they used to know.
Then Em finds a note in her cell which changes everything.
It's from her future self and contains some simple but very clear instructions.
Em must travel back in time to avert a tragedy that's about to unfold.
Worse, she has to pursue and kill the boy she loves to change the future ...
Information
Format: Paperback
Pages: 384 pages
Publisher: Bloomsbury Publishing PLC
Publication Date: 01/08/2013
Category: Thrillers (Children's/YA)
ISBN: 9781408835197
Free Home Delivery
on all orders
Pick up orders
from local bookshops
Reviews
Showing 1 - 2 of 2 reviews.
Review by sunset_x_cocktail
16/06/2015
Thank you @bloomsbury for the paperback of this fantastic book won from a goodreads.com giveaway. Short review - I loved it. More detailed review to come. <br/><br/>3/12/13<br/><br/>A few days later now I can maybe come up with a coherent review. I put in a request from Netgalley when I first saw this title, and was a little disappointed when I was unapproved, the gist of the email I got was I was rejected because I wasn't a UK resident. WTF? Says so in my goodreads profile. Anyway. I saw All Our Yesterdays in two bookshops and must admit I passed on getting it. And at some point I obviously entered a goodreads give away, because I got an email telling me I had been one of the lucky winners. <br/><br/>Initially the reason I passed on picking the book up when I saw it in the shops was I generally avoid time travels. As I've been a Doctor Who fan for many years (up until the last two seasons) even though I still thought I would always make unfair comparisons and no one does time travel as good as the Doctor.<br/><br/>That being said, I'm so glad I won a copy of this book because as it turned out, I loved it. The sciency stuff wasn't hard to understand and made sense. Initially Marina's character annoyed me as she was spoiled and shallow, though props to her for being in love with her super smart friend and not some jock. I found I liked Em's character much more. She was brave and determined and smart and I loved her. I liked future Fin and past Fin both a lot as well. James kind of irritated me, but in a way, I could understand where he was coming from with his actions. <br/><br/>The plot was full of twists and turns, and there were several times when I thought I knew where it was going, but it didn't really matter because the story telling was so good. Even so, it twisted and threw me completely. <br/><br/>The two duel points of views, were exceptionally well done. The story telling was superb. Engaging, riveting and heart breaking at the end. <br/><br/>I can't wait for the next one.
Review by Goldengrove
27/08/2015
I thoroughly enjoyed All Our Yesterdays. It's a time travel story that wrestles successfully with the problems of TT, and comes to satisfactory and believable solutions.As the book opens, Em finds herself a prisoner - but she is a prisoner not only of the Doctor, but of her own life. She is expected to give answers to questions about events that are in her future; and to escape she has to work against her own feelings.There is a well-drawn love story alongside the 'wibbly wobbly, timey wimey stuff'', but it is the expert handling of the complications of the TT plot that really appealed to me.This has been loaned regularly since I bought it for the school Library, and it is highly recommended by the more sci-fi minded students.