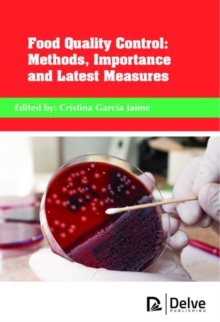 Food Quality Control : Methods, Importance and Latest Measures
Hardback
Description
Food quality control and management has been an important issue since the time when ancient people dried meat, vegetables and fruits to be used in the next season.
Over the years, people became more involved in the processing and production of safe and sustainable food items that brings better taste and quality to the consumer.
But the fact is that the processing methods, the results and the way in which food was preserved for later use became even more complicated and sophisticated.
One of the first preservation techniques used in ancient times was salting.
Salt was used to reduce the risk of developing fungus and other microorganisms in food.
Though, the lack of knowledge in microbiology and food pathology hindered the development of more techniques to preserve quality, texture, taste and aroma.
For this reason, as the time passed, people started to develop new techniques that preserved food in it natural characteristics.
It was studied how to control the decay process and how to improve the food quality by controlling various risk factors effectively.
These methods were introduced with the help of increasing knowledge in the field of microbiology and biotechnology.
The findings helped to develop different substances, methods and equipment to reduce the risks in preserved and packaged food.
These techniques were useful for improving shelf life and for providing sustainable food items that stay healthy for a longer period of time.
Nowadays, advancements in food quality and control have brought the innovative features of quality management that collect: management, checks, inspection and testing procedures.
There is a great emphasis on managing the quality factor through multiple aspects and implementing the highest standards of HACCP and ISO so that consumers take safe and healthy food.
The more recent developments are towards the environmentally friendly packaging and use of healthy methods to reduce risks to the ecosystem.
This book covers all the basic concepts regarding the history, present practices and all the future possibilities affecting quality control in the food industry.
This will help readers in the understanding of the importance of food quality control in the food industry and its evolution towards the highest standard of consumer-focused production.
Free Home Delivery
on all orders
Pick up orders
from local bookshops