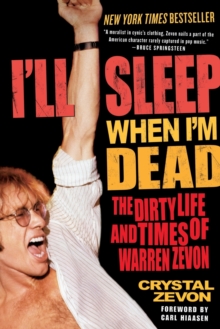 I'll Sleep When I'm Dead : The Dirty Life and Times of Warren Zevon
Paperback
Description
When Warren Zevon died in 2003, he left behind a rich catalog of dark, witty rock 'n' roll classics, including "Lawyers, Guns and Money," "Excitable Boy," and the immortal "Werewolves of London." He also left behind a fanatical cult following and veritable rock opera of drugs, women, celebrity, genius, and epic bad behavior.
As Warren once said, "I got to be Jim Morrison a lot longer than he did."Narrated by his former wife and longtime co-conspirator, Crystal Zevon, this intimate and unusual oral history draws on interviews with Bruce Springsteen, Stephen King, Bonnie Raitt, and numerous others who fell under Warren's mischievous spell.
Told in the words and images of the friends, lovers, and legends who knew him best, I'll Sleep When I'm Dead captures Warren Zevon in all his turbulent glory.
Information
Format: Paperback
Pages: 480 pages
Publisher: HarperCollins Publishers Inc
Publication Date: 07/04/2008
Category: Rock & Pop music
ISBN: 9780060763497
Free Home Delivery
on all orders
Pick up orders
from local bookshops
Reviews
Showing 1 - 4 of 4 reviews.
Review by datrappert
16/06/2015
This is a fascinating and truly harrowing story of a deeply disturbed man told by his ex-wife, friends, and ex-friends. The brutal honesty is very jarring, but that is apparently the way Warren Zevon wanted his story told. One thing I can definitely say after reading it: I would not have wanted to live his life, even if you take away the tragic ending. The good thing is that reading this made me re-examine a lot of his older music, and I am finding more and more exceptional songs to go along with the ones I already loved. I think the best way to listen to his music is randomly. I'm not sure he made a great album, other than Excitable Boy. But he certainly had a lot of great songs.
Review by poetontheone
16/06/2015
This readable "oral biography" gives a panoramic and fairly thorough portrait of Warren Zevon, built by contributions from those who knew him. As Warren himself requested of his former wife Crystal, who edited this book, we see all of the good and the bad, and yes, the ugly of a troubled but incredibly gifted man. This biography does not fall prey to rock star cliches, because Warren was nothing if not original. This is an important document of one of America's greatest and most under-appreciated songwriters. With this book, we get some of the stories behind the songs, and we see that Zevon was a flesh and blood man with many flaws and a massive amount of genius. If you are devoted to this man's music, you will find something worthwhile in reading this biography.
Review by akblanchard
16/06/2015
I read this book in May of 2007.This biography covers the late singer-songwriter's wild life, including his childhood and youth as the only child of a Jewish gangster father and a long-suffering Mormon mother, his alcohol-soaked days as a influential musician in the Los Angeles music scene, and his untimely death from lung cancer at the age of 56.I don't know much about his music, but Warren Zevon was a man with deep problems–a bad friend, negligent father, wife beater, hard-core porn addict and a very serious substance abuser. And yet, he had lots of well-known friends (Carl Hiaassen, Billy Bob Thorton, and Bruce Springsteen, among others) who vouch for what a great guy he was sometimes, what great parties they had back in the 1970s, etc. This oral history compiled by Zevon's ex-wife kept me reading, but Zevon does not emerge as a admirable man.
Review by ozzieslim
27/08/2015
I enjoyed some of Warren Zevon's music but I didn't realize just how much of it and how many artists that I love, that he was connected with. But that's not why this book received five stars. The book is written in a series of anecdotal paragraphs from different people in Zevon's life. In some cases, one story will be told from the different perspectives of all the people involved in a story. This more personal form of story telling makes you feel the more immediate impact of what was happening. This was a great time period in rock and roll in Los Angeles. It was the 1970's and the big players like Jackson Browne, Linda Ronstadt, Joni Mitchell, Neil Young etc. are all there making an appearance.History is littered with tortured geniuses. Zevon is one of those. Rather than looking at someone through the long lens of time, this is a look at the immediate ramifications of someone who was brilliant but tortured. The impact of his behavior and actions was huge and left indelible marks on the people in his life: collaborators, children, wives and lovers and friends.Zevon was a raging alcoholic and although he was able to write music and lyrics during these periods, he was ill equipped to handle almost any other aspect of his life. To that end, we see all the people in his life, although often damaged by his actions, creating a scenario in which they both enabled the alcoholism and enabled the work to continue.To that end, this book isn't for everyone. The behavior of Zevon was at turns tragic, hilarious and selfish. Throughout the book I wondered why those who really cared and loved the man, allowed him to treat them the way that he did while rarely calling him on it. This might be the result of genius: one is afraid to touch any aspect of it for fear that changing one thing will change the nature of the work. Readers will be surprised at how much of the work they recognize and realize that like many genius's throughout history, Zevon's work will most likely come to be appreciated more in death than it ever was in life. He was respected and revered by artists who reached greater commercial success and this made him frustrated. He was a mess but oh, what a gloriously talented mess. Easily one of the best rock biographies I have read. Worth any amount of time and money spent on it and you will end up looking for Zevon's work and appreciating it more than you ever thought possible.