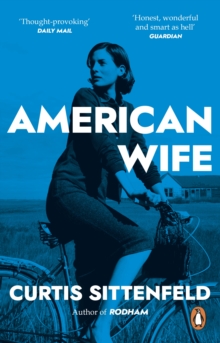 Description
In the year 2000, in the closest election in American history, Alice Blackwell's husband becomes president of the United States.
Their time in the White House proves to be heady, tumultuous, and controversial. But it is Alice's own story - that of a kind, bookish, only child born in the 1940s Midwest who comes to inhabit a life of dizzying wealth and power - that is itself remarkable.
Alice candidly describes her small-town upbringing, and the tragedy that shaped her identity; she recalls her early adulthood as a librarian, and her surprising courtship with the man who swept her off her feet; she tells of the crisis that almost ended their marriage; and she confides the privileges and difficulties of being first lady, a role that is uniquely cloistered and public, secretive and exposed. In Alice Blackwell, Curtis Sittenfeld has created her most dynamic and complex heroine yet.
American Wife is not a novel about politics. It is a gorgeously written novel that weaves race, class, fate and wealth into a brilliant tapestry.
It is a novel in which the unexpected becomes inevitable, and the pleasures and pain of intimacy and love are laid bare.
Information
Format: Paperback
Pages: 640 pages
Publisher: Transworld Publishers Ltd
Publication Date: 07/03/2009
ISBN: 9780552775540
Free Home Delivery
on all orders
Pick up orders
from local bookshops
Reviews
Showing 1 - 5 of 5 reviews.
Review by verenka
16/06/2015
My mum gave the book to me because the main character is a librarian. As it turns out she is based on/inspired by Laura Bush. I thought I wouldn't like it, because I disagree with just about anything her husband ever said or did. But the book is extremely well written and almost made me cry by page 150. The main character, Alice Blackwell, couldn't be more different from me. She is considerate, polite, private, docile, and shy to the point of being dull. Even though I probably would not want to spend an evening talking to her, I really enjoyed the story she was telling and thought it interesting how her affectionate storytelling even made her husband, who is based on G. W. Bush, seem less obnoxious.I liked how the story is told in little anecdotes about Alice Blackwell's life that lead to the point she wants to make or the similarity she wants to point out. The only time this didn't work for me at all is when she compares her using the wrong door and accidentally walking out of the room and not wanting to admit her mistake and go back to her husband's refusal to withdraw troops from a Irak. Eating dinner with a full bladder does not compare to a lost war.My other problem with the book are the quite explicit sex scenes that always reminded me that this is something I never wanted to consider about George W. and Laura Bush. No, thanks.
Review by bkinetic
16/06/2015
The main character in the book is fully and sympathetically portrayed. She is surrounded by a husband and other people who are far from her soul mates and instead people she has accepted out of affection, necessity and circumstance. Because she is so reticent, Laura Bush is likely to remain opaque forever. This is an intriguing and hypothesis about her interior life.
Review by rose_p
16/06/2015
Primary Colors - I've wanted to see the film for ever, but never tracked it down. Finally saw the book in Waterstones and lashed out.It's a roman a clef, about Bill Clinton's first presidential campaign in 1992 - but the similarity comes through characters and situations rather than through the specific features of the plot. It's told through the voice of an idealistic 'pol' (Henry) who joins the campaign at an early stage and follows his arc from his initial inspiration by an idealised candidate (Jack) with a real love for and commitment to 'real voters', through difficult debates as he confronts the candidate's constant cheating of his wife and low skulduggery to improve his chances, and on to exhaustion and exasperation as Henry plans to leave the campaign. But the book closes as the campaign gains momentum again and Jack turns his charm and warmth to press Henry to stay on - we don't know what happens but my guess is that he gets sucked back in. Many reviews cite Primary Colours as a satire - I wasn't struck by humour, but did feel the sense of informed, committed cynicism.I loved the politics - and while reading (and often while thinking during the day) I often found myself thinking about the sense it generates of pacy politics, rapid analysis and strategising and carefully calculated moves. I like the way that the novel - like a lot of good TV - steps straight into jargon and conversation and expects the reader to work out the significance of (for example) a campaign having both old ladies and teenagers volunteering. I suspect that part of my sense of pace comes from the overlap in context and tone with the West Wing.I found Susan Stanton's character utterly alienating, and mostly because of her responses to Jack. Her portrayal is complex - there are flashes of empathy and Henry feels angry for her; but her one night stand feels like calculated retaliation rather than a reaching out for affection. And her responses to Jack are an odd mixture of maternal care, disappointment and guidance and coach, business partner and co-performer. I can't pin it down - but my feelings toward Susan are very similar to my ambivalence about Hilary Clinton. She should be an inspiration - but somehow her compromises for power turn me off.
Review by scgervais
16/06/2015
I really enjoyed this book. Not outstanding, but a good read.
Review by AdonisGuilfoyle
16/06/2015
Well, I think this qualifies as the longest book I have read this year, under false circumstances! The title and semi-biographical narrative intrigued me for all the wrong reasons, because I was hoping that the fictitious first lady would be based on Jacqueline Kennedy, but thanks to Curtis Sittenfeld's observant and well-paced writing, I warmed to Laura Bush's alter-ego in the end. (However, reading about <I>George</I> Bush was one stretch of the imagination too far, so I chose to pretend that Alice's husband Charlie was based on JFK instead. The character sort of fits, apart from being a Republican and finding religion, and remaining in power for far too long. The Blackwell clan ('a competitive sport in themselves') definitely brought to mind all the Kennedy biographies I have read!)I had no such misconceptions about Curtis Sittenfeld, but I shall definitely seek out her other novels in future. This is a long novel about not much in particular - the presidency only takes up the last hundred pages or so - but Alice's life is brought to the page with such intricacy of detail and emotion that I was hooked throughout. In fact, the White House chapters were the slowest for me, containing a lot of pro-Bush defence and general introspection that felt tacked on somehow, after the great drama of Alice/Laura's own story.I have new respect for Laura Bush (though no more for her husband), and can heartily recommend this novel to any readers who love immersing themselves in in the minutiae of (semi)fictional lives.