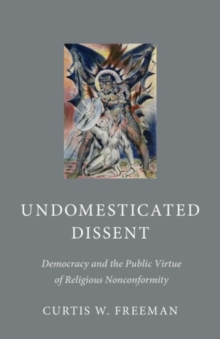 Undomesticated Dissent : Democracy and the Public Virtue of Religious Nonconformity
Hardback
Description
On the north end of Londonliesan old nonconformistburial ground named Bunhill Fields.
Bunhill becamethefinal resting place for some of the most honored names of English Protestantism.
Burialoutside the city walls symbolized that thoseinterredat Bunhill lived and died outside the English body politic.Bunhill, its location declares,isthe properhome for undomesticateddissenters. Amongmore than 120,000 graves, three monuments stand in the central courtyard: one for John Bunyan (1628a1688), a second for Daniel Defoe (1660?a1731), and a third for William Blake (1757a1827). Undomesticated Dissent asks, "why these three monuments?" The answer, as Curtis Freeman leads readers to discover, is anidea as vitalandtransformative for public life today as itwasunsettling and revolutionary then. To telltheuntoldtaleof the Bunhill graves,Freeman focuseson the three classic texts by Bunyan, Defoe, and Blakea The Pilgrim's Progress , Robinson Crusoe , and Jerusalem aas testaments of dissent.
Their enduring literary power, as Freeman shows,derives from theiroriginal political and religious contexts.But Freeman also traces theabidingpropheticinfluenceof these texts,revealingthe confluence of great literature and principled religiousnonconformityin the checkered story of democraticpoliticalarrangements. Undomesticated Dissent provides a sweeping intellectual history of the public virtue of religiously motivated dissent from the seventeenth century to the present, by carefully comparing, contrasting, and then weighing the various types of dissentaevangelicaland spiritual dissent (Bunyan), economic and social dissent (Defoe),radical andapocalyptic dissent (Blake).
Freemanoffersdissentingimaginationasagenerative source for democracy, as well as a force forresistancetothe coercivepowers of domestication.By placing Bunyan, Defoe, and Blake within an extended argument about the nature and ends of democracy, Undomesticated Dissent reveals howthese three mentransmittedtheirdemocratic ideas across the globe,hidden within the text of their stories. Freemanconcludes thatdissent, so crucial to the establishing of democracy, remainsequally essential for its flourishing.
Buried deep intheirfull narrative of religion and resistance, the three monuments at Bunhill together declare that dissent is not disloyalty, and that democracy depends on dissent.
Information
Format: Hardback
Pages: 288 pages, 5
Publisher: Baylor University Press
Publication Date: 15/08/2017
Category: Literary studies: general
ISBN: 9781481306881
Free Home Delivery
on all orders
Pick up orders
from local bookshops
Also by Curtis W. Freeman