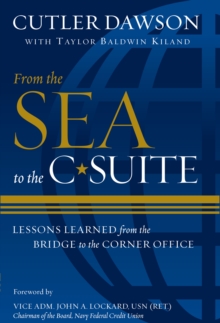 From the Sea to the C-Suite : Lessons Learned from the Bridge to the Corner Office
Hardback
Description
How do you quadruple the size of an 85-year-old company in one decade without changing its cultural DNA?
How do you accomplish this while keeping your original base of customers wildly loyal and your employees passionately engaged?
With Cutler Dawson at the helm for the last 14 years, Navy Federal Credit Union, the world's largest credit union, has quadrupled the size of the organisation and made it an industry leader in customer service.
A retired Navy vice admiral with an esteemed 34-year career commanding ships and fleets, Cutler arrived at the venerable and conservative credit union and Set it on a course for meteoric growth.
It is now one of the most fiercely trusted and smoothly run financial institutions in the world ranked by Fortune magazine as a Best Place to Work for eight years.
How did Cutler and his team at Navy Federal do it? What did he learn on the ship's bridge that that helped him successfully run a bank--a credit union, actually?
What did he learn leading ships and crews into harm's way that helped him weather the storms of the 2008 financial crisis without a layoff? And what can you learn from his leadership experience that began when he took command of his first ship at the age of 27?
This book reveals an honest and straightforward look at Cutler's leadership philosophy and guiding principles, offering tangible and practical insights for readers who want to learn how to chart a similar course of success--one of exponential growth without compromising a company's bedrock principles.
Information
Format: Hardback
Pages: 168 pages
Publisher: Naval Institute Press
Publication Date: 30/11/2019
Category: Warfare & defence
ISBN: 9781682474730