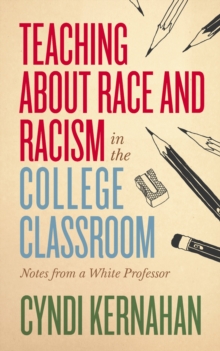 Teaching about Race and Racism in the College Classroom : Notes from a White Professor
Paperback / softback
Description
Teaching about race and racism can be a difficult business.
Students and instructors alike often struggle with strong emotions, and many people have robust preexisting beliefs about race.
At the same time, this is a moment that demands a clear understanding of racism.
It is important for students to learn how we got here and how racism is more than just individual acts of meanness.
Students also need to understand that colorblindness is not an effective anti-racism strategy. In this book, Cyndi Kernahan argues that you can be honest and unflinching in your teaching about racism while also providing a compassionate learning environment that allows for mistakes and avoids shaming students.
She provides evidence for how learning works with respect to race and racism along with practical teaching strategies rooted in that evidence to help instructors feel more confident.
She also differentiates between how white students and students of color are likely to experience the classroom, helping instructors provide a more effective learning experience for all students.
Information
Format: Paperback / softback
Pages: 228 pages
Publisher: West Virginia University Press
Publication Date: 30/12/2019
Category: Social discrimination
ISBN: 9781949199246
Also in the Teaching and Learning in Higher Education series | View all