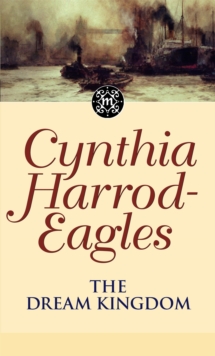 The Dream Kingdom
Paperback
Description
Edwardian England is a country at the peak of its power; a kingdom of peace, prosperity and progress.
As Jessie and Violet enjoy their coming-out in the glittering Season of 1908, their thoughts are of pleasure, dancing and falling in love. For the Morlands things seem set fair: new business ventures expand their influence and wealth; there are weddings, babies in the nursery, careers for the boys now reaching manhood.
It is an exciting age, with new technologies - motor cars, telephones, radio, aeroplanes - extending man's control over the natural world. But under the appearance of permanence, a different reality is stirring.
Socialism, the suffrage movement, the constitutional crisis, all call forth ever more dissent and anger.
Increasingly violent protests and strikes disturb the peace; war with Germany looms ever closer.
With the King's death, it begins to seem that the safe Edwardian world was only a dream, from which the wakening will be hard indeed.
Information
Format: Paperback
Pages: 640 pages
Publisher: Little, Brown Book Group
Publication Date: 01/11/2004
Category: Historical fiction
ISBN: 9780751533439
Free Home Delivery
on all orders
Pick up orders
from local bookshops
Reviews
Showing 1 - 1 of 1 reviews.
Review by cathyskye
16/06/2015
Historical FictionSetting: England 1908-1910Series: #26First Line: In a taxi-cab rattling through London in the small hours, Jessie Compton sat up, wide awake, astonished that her two companions could be half asleep (in the case of her friend Lady Violet Winchmore) or frankly dozing (as was their chaperone Miss Miller, Violet's former governess).Beginning this series is an investment in time and pleasure. Currently numbered at thirty volumes, it is Harrod-Eagles' ambitious task to take a fictional family in Yorkshire from the time of Richard III all the way to the present day. If you like architecture, several volumes have floorplans of the house as it changes over the years. If you like genealogy, there's an ancestral chart included in each. Although there are a lot of characters, these books attest to the author's skill as a writer because each is different, each is fully drawn, and each is memorable.I began reading this series in the 1980s when the first five volumes were published in this country. When I could no longer find them, I assumed that there were no more. It wasn't until 2000 that I discovered that she'd been writing all along, and it's been my pleasure to get caught up. I hoard them though, and parcel them out sparingly so I don't run out before the next book is in print!The Dream Kingdom takes place during the years 1908-1910 when England was in a period of golden summer. All things were bright and beautiful, and it seemed that everything would go on like this forever. Two girls in the family have their London Season. One of the young men realizes a dream to get into the brand-new field of aviation. One of the women is an ardent Suffragette. The current owner of Morland Place finds his business doing quite well with a new contract from the White Star Line for the soft furnishings for the Olympic and Titanic. He also brings home a new wife which throws his sister into a tailspin because she knows there can't be two mistresses of the same house.This series has it all for me: history, wonderful characters, a vivid setting...I can't get enough!
Also by Cynthia Harrod-Eagles | View all
Also in the The Morland Dynasty series | View all