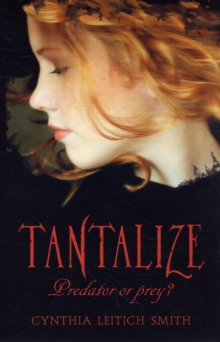 Tantalize
Paperback
Part of the Tantalize series
Description
Terrific teenage gothic novel - vampires and werewolves abound!Orphaned and in her uncle's care, fiercely independent Quincie may be the most over-achieving high-school student around, but even she has her hands full with a hybrid-werewolf boyfriend and the opening of Sanguini's, her hip vampire-themed restaurant, which turns out to have way more bite than she'd intended.
Information
Format: Paperback
Pages: 336 pages
Publisher: Walker Books Ltd
Publication Date: 06/10/2008
Category: General
ISBN: 9781406315608
Free Home Delivery
on all orders
Pick up orders
from local bookshops
Reviews
Showing 1 - 3 of 3 reviews.
Review by 4sarad
16/06/2015
I liked this book and it was a quick, easy read. I wished the relationship between Quincie and Bradley was a little more realistic... maybe a little more time to develop. I also thought the ending was rushed and a little confusing. Plus... why did Bradley let Quincie know that she could be saved if someone shoved her mouth full of garlic? And then, why did Kieren not do that? He's supposed to be some expert on all of this... why didn't he just change her back to human? So confused...
Review by wyvernfriend
16/06/2015
While the concept sounded good, a vampire themed restaurant with campires and werewolves and a love triangle but it ends up being somewhat of a letdown, for me at least. I didn't see that Quincie was falling in love with the vampire, interested, a little attracted but not really falling for her. The reason the vampire is attracted to her didn't really come through and it all seemed to be a bit "must try harder" to me.Some of the details were a bit interesting, like the concept of a vampire themed restaurant caught my interest. However the menu was kinda sparse and the descriptions fell a bit flat.It's not the worst thing I've read but I have no real urge to hunt up the sequel.
Review by wheems01
16/06/2015
Quincie Morris has a lot on her mind. Since the death of her parents three years ago, Quincie and her Uncle Davidson have been running the family restaurant Fat Lorenzo's. With the completion taking away business they decided to change the restaurant into Sanguini's, a restaurant built around a vampire theme. When the head chef, and good friend Vaggio is murdered in the restaurant kitchen, Quincie's best friend, Kiernan, a hybrid werewolf and the boy of her dreams, warns her that real vampires may be involved. While the police investigate Kiernan and the werewolf connection, Quincie must get the restaurant ready for its grand reopening, and hope that whoever killed Vaggio doesn't come back for her.I was surprised by how quick a read this was. Tantalize has a well developed story and world. Quincie is a likable character who is in love with her best friend, but worries that he will be leaving soon. As the likable new chef, Henry Johnson, gets closer to Quincie, she must try to choose between her old love, and a possible interest in the slightly older Johnson. Full of surprises this book was a fun read.Cynthia Leitich Smith did an excellent job with her characters and her plotting. I can't believe how fast I was drawn into this novel. While it still suffers from the Twilight vampire and werewolf phenomenon, it was still interesting and unique.Recommended for those who like paranormal fiction, vampires, and werewolves.
Also by Cynthia Leitich Smith | View all
Also in the Tantalize series