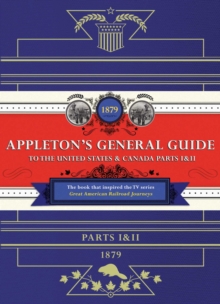 Appleton's Railway Guide to the USA and Canada
Hardback
Description
Collector's item, landmark in the history of the American tour guide, snapshot of North American in the 1870s - Appleton's Handbook warrants a unique place on the `must buy' booklist of any traveller, railway enthusiast, historian or americanaphile. Originally produced as the railway networks of the United States of America and Canada were stretching across the vast continent, and as tourism by rail became a serious pastime for the burgeoning middle classes, it was the first tourist guide specifically organized around railway journeys, and to this day offers a glimpse through the carriage window of a continent lost to history.
This is a facsimile of the actual book - often referred to as 'Appleton's Guide' - that inspired the Great American Railroad Journeys television series with Michael Portillo, possibly the only surviving example of the 1879 edition.
It is an exact copy with a removable belly-band.