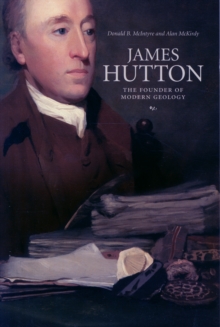 James Hutton : The Founder of Modern Geology
Paperback
Description
This excellent introduction to James Hutton was first published by National Museums Scotland in 2001.
Scientists currently think that the Earth is four and a half billion years old but until the eighteenth century the Christian world firmly believe in its creation about 4000 BC.
James Hutton (1726-97) was the man whose pioneering fieldwork proved that this was not so.
A leading figure in the Scottish Enlightenment, he not only established that the Earth is immensley old, but in the process also saw the possibility of both evolution and natural selection - fifteen years before Charles Darwin was born.
This new edition has: a new format; 10 replacement pictures; an additional chapter; a foreword by the James Hutton Institute; and an appreciation by Alan McKirdy of his co-author Donald McIntyre who died in 2009.
Information
Format: Paperback
Pages: 80 pages, 56
Publisher: NMSE - Publishing Ltd
Publication Date: 01/02/2012
Category: Historical geology
ISBN: 9781905267736
Free Home Delivery
on all orders
Pick up orders
from local bookshops