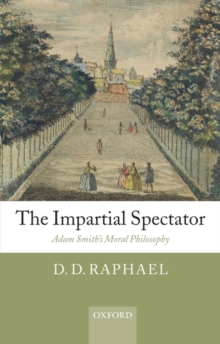 The Impartial Spectator : Adam Smith's Moral Philosophy
Paperback / softback
Description
D. D. Raphael provides a critical account of the moral philosophy of Adam Smith, presented in his first book, The Theory of Moral Sentiments.
Whilst it does not have the same prominence in its field as his work on economics, The Wealth of Nations, Smith's writing on ethics is of continuing importance and interest today, especially for its theory of conscience.
Smith sees the origin of conscience in the sympathetic and antipathetic feelings ofspectators.
As spectators of the actions of other people, we can imagine how we would feel in their situation.
If we would share their motives, we approve of their action.
If not, we disapprove. When we ourselves take an action, we know from experience what spectators would feel, approval or disapproval.
That knowledgeforms conscience, an imagined impartial spectator who tells us whether an action is right or wrong.
In describing the content of moral judgement, Smith is much influenced by Stoic ethics, with an emphasis on self-command, but he voices criticism as well as praise.
His own position is a combination of Stoic and Christian values.
There is a substantial difference between the first five editions of the Moral Sentiments and the sixth.
Failure to take account of this has led some commentators to mistaken views about the supposed youthful idealism of the Moral Sentiments as contrasted with the mature realism of The Wealth of Nations.
A further source of error has been the supposition that Smith treats sympathy as the motive of moral action, as contrasted with the supposedly universal motive ofself-interest in The Wealth of Nations.
Information
Format: Paperback / softback
Pages: 152 pages
Publisher: Oxford University Press
Publication Date: 01/05/2009
Category: Ethics & moral philosophy
ISBN: 9780199568260
Free Home Delivery
on all orders
Pick up orders
from local bookshops