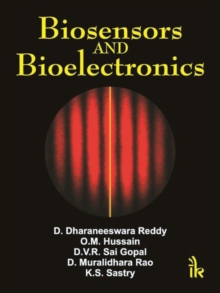 Biosensors and Bioelectronics
Paperback / softback
Description
The development of novel nano-biomaterials and composites is one of the fundamental driving forces in the design and development of biosensors and bioelectronics. Bioelectronics uses biological or biologically inspired molecules as an integral part of an electronic device; biosensors are the analytical embodiment of this art.
The integration of electronics and the development of packaging technologies has made it possible to manufacture sensors and electronics on a silicon chip no bigger than a pin head.
Key to this is the interface between biological materials and micro- and nanoelectronics. This title includes:A history and overview of biosensors. Components and performance factors. Biorecognition and immobilization. Biosensor technology and fabrication. Transducers. Biosensors types and applications in the medical and healthcare, food, agriculture and environmental monitoring industries. Molecular electronics. Photonic computers and carbon chemistry. This book also includes information on piezoelectric transducers, electromagnetic acoustic transducers (EMAT), molecular electronic seismometers (MES) and conductometric transducers.
Information
Format: Paperback / softback
Pages: 512 pages
Publisher: I K International Publishing House Pvt. Ltd
Publication Date: 30/12/2012
Category: Biotechnology
ISBN: 9789382332190
Free Home Delivery
on all orders
Pick up orders
from local bookshops