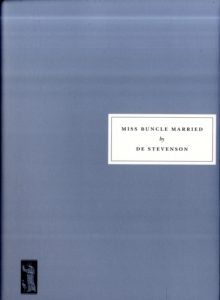 Miss Buncle Married
Paperback
Information
Format: Paperback
Pages: 400 pages
Publisher: Persephone Books Ltd
Publication Date: 14/04/2011
Category: Classic fiction (pre c 1945)
ISBN: 9781903155813
Free Home Delivery
on all orders
Pick up orders
from local bookshops
Reviews
Showing 1 - 5 of 5 reviews.
Review by souloftherose
16/06/2015
I should probably start by saying that although this isn't as good as <i>Miss Buncle's Book</i> it was still an enjoyable book to read, but you may find this book disappointing if you are expecting another <i>Miss Buncle's Book</i>.The charm of the first book was mainly due to the characters in the village where Miss Buncle lived and the wonderful and ridiculous situations which arose as a result of Miss Buncle writing a book about them. In <i>Miss Buncle Married</i>, Miss Buncle has, as you would expect from the title, got married and moved away from the village she wrote about. Most of the book focuses on Miss Buncle and her new husband and one or two close friends and relations. There's the occasional scene which involves a large group of people and then the book briefly captures the spark of the original, but these scenes occur all too rarely. It's less amusing to read about Miss Buncle and her marriage because Miss Buncle and her husband are <u>nice</u> people and it's therefore much harder to laugh at them. Having said that, this was still a nice, gentle, warm book to read and I hope that Persephone decide to reissue <i>The Two Mrs Abbotts</i> which is the third and final Miss Buncle book.
Review by nordie
16/06/2015
not *quite* as good as Miss Buncle's Book, but still pretty good. Barbara is now married to Arthur Abbot, and bored of the socialising they seem unable to get out of, they decide to move instead.Finally they find a place that Barbara can "do up" whilst allowing Arthur to still work in Town.Apart from Sam and his new girlfriend, the supporting characters are not as "large" as in the previous book, but that might be a good thing, to prevent Stevenson from repeating herself. This time the focus is much more on Barbara and Arthur and it is very sweet.
Review by LyzzyBee
16/06/2015
(21 January 2012 – from Matthew)My last unread Persephone book – but as we're now in September, I think I've strung them out pretty well! This is the sequel to the marvellous "Miss Buncle's Book", and a little longer and slower going, which made it a lovely, wallowy read. Miss Buncle is now Mrs Abbott, house-hunting then settling into small town life, with a crop of rather odd children tumbling around in the garden and various random town 'characters'. But of COURSE, Miss Buncle isn't going to write a book about them and risk being hounded out of town …I love the portrayal of female friendships and the jolly lingo of nephew, Sam, who needs to buckle down. But will he, when the place is populated by suspected ghosts, there's a Will that the wrong people know about, and poets and artists knocking around who cause one to ponder on the relative nature of good and bad art. And, in the end, will something happen that will mean another bout of upheaval for the Abbotts, surely the most happily married couple in literature?
Review by rainpebble
16/06/2015
Miss Buncle Married by D.E. Stevenson; Persephone, (#91); (4*)This book is a follow up novel by Stevenson to her Miss Buncle which I rated as a 4 star read as well. I thoroughly enjoyed the second as much as the first.In this second of the series, Barbara Buncle has wed one solicitor, Arthur Abbott and thusly has become Mrs. Abbott. He has agreed to let her find a new home in the country and though it takes her much time to do so, she finally finds what to her is a desirable village house. Mr. Abbott looks at the house and sees a money pit but whatever his darling Mrs. Abbott wants he will furnish for her. She oversees all of the updating and upgrading of the home and furnishes it beautifully.While walking in the gardens she comes upon two young children playing in the creek and upon it's banks. They get to chatting and tell her that they live just beyond the wood and they are worried that the new owners of the Archway House will not allow them to play in the wood and gardens but Mrs. Abbott assures that they are most welcome to play there as they have always done.This second novel is just as fun filled as the first with many a surprising turn of events occurring. The joy of a life in a small village shines through the pages. These comfy, cosy novels remind me so of a mix of Angela Thirkell and Barbara Pym's books with just a touch of Elizabeth Taylor thrown in.I very highly recommend D.E. Stevenson's books. They are a lark.
Review by keeba
16/06/2015
The further adventures of the delightful Barbara Buncle, the heroine of DE Stevenson's 1934 novel, <i>Miss Buncle's Book</I>. Now happily married to her publisher, Arthur Abbott, Barbara and Arthur are perfectly content except for one thing - the swirl of cocktail parties, bridge parties and other engagements that have taken over their lives. How to extricate themselves without offending the neighbors? They must move, of course.<br/><br/>Move they do, to the remote English village of Wandlebury where Barbara shakes things up in her usual quiet way.<br/><br/>I was going to include a spoiler caution for Miss Buncle's Book at the top of this review, but the title of the book itself is a spoiler. I haven't ruined anything for you. I do recommend that you read MBB before you tackle MBM. It will place things in context.