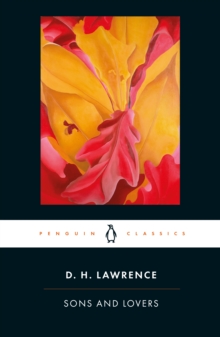 Sons and Lovers
Paperback
Description
Taking its autobiographical inspiration from D.H. Lawrence's experience of growing up in a coal-mining town, Sons and Lovers is a vivid account of the conflict between class, family and personal desires.
This Penguin Classics edition is edited by Helen Baron and Carl Baron, with an introduction by Blake Morrison, author of When did you Last See your Father? The marriage of Gertrude and Walter Morel has become a battleground.
Repelled by her uneducated and violent husband, delicate Gertrude devotes her life to her children, especially to her sons, William and Paul - determined they will not follow their father into working down the coal mines.
But conflict is evitable when Paul seeks to escape his mother's suffocating grasp through relationships with women his own age.
Set in Lawrence's native Nottinghamshire, Sons and Lovers is a highly autobiographical and compelling portrayal of childhood, adolescence and the clash of generations. In his introduction, Blake Morrison discusses the novel's place in Lawrence's life and his depiction of the mother-son relationship, sex and politics. Using the complete and restored text of the Cambridge edition, this volume includes a new chronology and further reading by Paul Poplawski. D.H. Lawrence (1885-1930), English novelist, storywriter, critic, poet and painter, one of the greatest figures in 20th-century English literature.
Lawrence published Sons and Lovers in 1913, but The Rainbow, completed in 1915, was declared obscene and banned two months after first publication; and for three years he could not find a publisher for Women in Love, which he completed in 1917.
His last novel, Lady Chatterley's Lover, was published in 1928, but banned in England and America. If you enjoyed Sons and Lovers, you might like Lawrence's The Rainbow, also available in Penguin Classics. 'Lawrence's masterpiece ...a revelation' Anthony Burgess, author of A Clockwork Orange 'His genius was for instant perception and vivid, passionate expression' The Times
Information
Format: Paperback
Pages: 528 pages, Illustrations
Publisher: Penguin Books Ltd
Publication Date: 01/06/2006
ISBN: 9780141441443
Other Formats
Paperback from £2.50
Hardback from £9.69
EPUB from £0.99
Free Home Delivery
on all orders
Pick up orders
from local bookshops
Reviews
Showing 1 - 4 of 4 reviews.
No one looks deeper into nature and human nature than D.H. Lawrence.
Review by bennyb
16/06/2015
A very long piece of literature. I found this quite hard work to finish. Worth a read if you are interested in Freudian ideals. I prefered Lady Chatterley's lover.
Review by jayne_charles
16/06/2015
Quite an oddity among 'classics' of this age - it started off fairly prim and proper, and then once it got beyond half way if I'm not much mistaken there was sex on every other page. More or less.If DH Lawrence wrote this from personal experience I can only conclude his mother was one scary lady.
Review by jwhenderson
16/06/2015
On September 11, 1885 D. H. Lawrence was born in Eastwood, outside Nottingham, the fourth of five children. Lawrence's autobiographical novel, Sons and Lovers, initially incited a lukewarm critical reception, along with allegations of obscenity, it is today regarded as a masterpiece of modernism. It certainly established some of the themes that Lawrence would explore in his subsequent novels.Lawrence began working on the novel in the period of his mother's illness, and the autobiographical aspects of the novel can be found in his letters written around the time of its development. Torn between his passion for two women and his abiding attachment to his mother, young Paul Morel struggles with his desire to please everyone--particularly himself. Lawrence's highly autobiographical novel unfolds against the backdrop of his native Nottinghamshire coal fields. The sensitivity of Paul is highlighted by the rough edged of the town and the other men in the family, when economic forces go against the family and their mining community his mother experiences even greater need to see young Paul break free. Lawrence's own personal family conflict provided him with the impetus for the first half of his novel — in which both William, the older brother, and Paul Morel become increasingly contemptuous of their father — and the subsequent exploration of Paul Morel's antagonizing relationships with both his lovers, which are both incessantly affected by his allegiance to his mother. Other women intrude on his life and in Lawrentian fashion the passions rise. This is his first successful novel and key in the development of modern fiction.When you have experienced Sons and Lovers you have lived through the agonies of the young Lawrence striving to win free from his old life. Generally, it is not only considered as an evocative portrayal of working-class life in a mining community, but also an intense study of family, class and early sexual relationships.