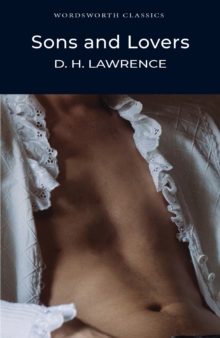 Sons and Lovers
Paperback
Description
Introduction and Notes by Dr Howard J. Booth, University of Kent at Canterbury. `When you have experienced Sons and Lovers you have lived through the agonies of the young Lawrence striving to win free from his old life'. Richard AldingtonThis novel is Lawrence's semi-autobiographical masterpiece in which he explores emotional conflicts through the protagonist, Paul Morel, and his suffocating relationships with a demanding mother and two very different lovers. Lawrence's novels are perhaps the most powerful exploration in the genre in English of family, class, sexuality and relationships in youth and early adulthood.
Information
Format: Paperback
Pages: 400 pages
Publisher: Wordsworth Editions Ltd
Publication Date: 05/05/1992
ISBN: 9781853260476
Other Formats
Paperback from £2.50
Hardback from £9.69
EPUB from £0.99
eAudiobook MP3 from £7.20
Free Home Delivery
on all orders
Pick up orders
from local bookshops
Reviews
Showing 1 - 2 of 2 reviews.
Review by mooknits
16/06/2015
I really enjoyed this book when I didn't expect to at all. I expected it to be highly political when all it was was social history which was very interesting indeed. None the characters were very likeable and the main character Paul Morel was not very moral at all. Very interesting and a very nice read indeed. One that I couldn't put down in the end !
Review by Cauterize
16/06/2015
Paul Morel grows up in a mining village in England, the son of a collier -- whom he hates. His mother is slightly more of a genteel lady, and Paul and her are devoted to one another. The book is a portrait of the Oedipal complex and how it affects Paul's relationships with women his own age, and the life of the labouring class as they try to move up to middle class around the start of the 20th Century.This book had been on my TBR shelves for a long time, and I finally sucked it up and started reading it. It ended up being one of the most boring weeks of my life. I only kept reading this book because it was a "classic" and I had never tried the author before. Generally, I try not to chuck anything that falls under these two traits as I always hope the book will improve or I will start to "get" it. But no, I <i>hated</i> it. I have pages of notes in my book journal about how I felt Lawrence's writing was the most boring thing I've ever read. A lot of the book is dedicated to everyone taking walks in the woods, strolls through the farm land while they look at nature. Miriam would see a bush and then feel "rhapsodies" and "ecstasies" every time she looked at it. Then she would make plans to show Paul the next time he visited her farm. Then the story would have Paul take that walk and swoon over the stupid plant as well. Three of the characters even judge each other about <i>how</i> they like to pick flowers. Also, Lawrence likes to talk about everyone trying to hold/take everyone else's soul. Stuff like, (paraphrasing) "Miriam's soul quickened at the sight of Paul looking at her flower. Perhaps now she would be able to hold him, she could feel his soul straining towards herself", "Mrs. Morel felt that Miriam would never be able to hold Paul. Miriam would try to hold Paul's soul while giving nothing of her own". I ended up writing things like: 'Miriam = soul-sucker; Miriam = vampire... haha'. Characters constantly contradict their previous assertions, with no explanation why... or even an indication if we were supposed to notice. It's frustrating when you have to read pages and pages of how Miriam loves Paul and wants to love and submit to him with all her soul, and then *poof!*, she says she always hated her love for him and that she knew they would break-up. ARGH. All these problems would cause little things start to bug me; at one point, the book went on and on about how Paul's handwriting was terrible no matter how hard he tried to improve it. But I just didn't this whole kerfuffle was realistic since Paul is an accomplished painter. I just have this notion that if people who have enough skill to professionally paint, they probably could write legibly if they tried.I did like the inside look of the lower classes and the struggle to move up in station. I've never read any books from this time period, and the book was very detailed about the daily life of a collier and his family. As a side note: I have the Wordsworth Classics 1993 edition and it is full of printing errors. If you want this book, spend your hard-earned cash on a different edition.
Also in the Wordsworth Classics series | View all