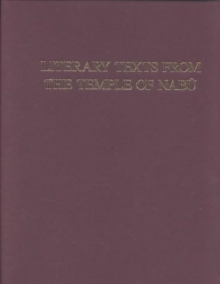 Cuneiform Texts from Nimrud 4 : Literary Texts from the Temple of Nabu
Hardback
Description
The library of Nimrud, probably established in 798 BC, was a prestigious royal foundation whose scribes had contacts all over the East, particularly with Nineveh.
The 259 cuneiform tablets and fragments which constituted the library mainly described magical and medical rituals, prayers and instructions for training scribes.
All the epigraphic finds from Sir Max Mallowan's excavations of 1955-7 are described in this volume, with additional material from the Iraq Archaeological Service's excavations of 1985.
Information
Format: Hardback
Pages: 72 pages, with 144 pls of Cuneiform Copies and 13 pls b/w photos
Publisher: The British School of Archaeology in Iraq
Publication Date: 31/12/1996
Category: linguistics
ISBN: 9780903472159
Also by D. J. Wiseman