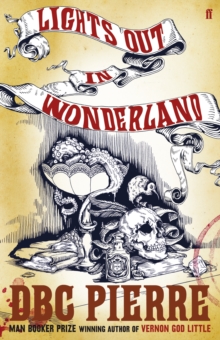 Lights out in Wonderland
Paperback
Description
Gabriel Brockwell, aesthete, poet, philosopher, disaffected twenty-something decadent, is thinking terminal.
His philosophical enquiries, the abstractions he indulges, and how these relate to a life lived, all point in the same direction.
His destination is Wonderland. The nature and style of the journey is all that's to be decided.
Taking in London, Tokyo, Berlin and the Galapagos Islands, "Lights Out In Wonderland" documents Gabriel Brockwell's remarkable global odyssey.
Committed to the pursuit of pleasure and in search of the Bacchanal to obliterate all previous parties, Gabriel's adventure takes in a spell in rehab, a near-death experience with fugu ovaries, a sexual encounter with an octopus, and finally an orgiastic feast in the bowels of Berlin's majestic Tempelhof Airport.
Along the way we see a character disintegrate and re-shape before our eyes. "Lights Out In Wonderland" carries you through its many corridors of delight and horror on the back of Gabriel's voice, which is at once skeptical, idealistic, broken and optimistic. An allegorical banquet and a sly commentary on these End Times and the march towards insensate banality, DBC Pierre's third novel completes a loose trilogy of fictions, each of which stands alone as a joyful expression of the human spirit.
Information
Format: Paperback
Pages: 336 pages
Publisher: Faber & Faber
Publication Date: 01/09/2010
ISBN: 9780571228898
Other Formats
Paperback from £6.35
Hardback from £15.25
EPUB from £5.99
CD-Audio from £17.95
Free Home Delivery
on all orders
Pick up orders
from local bookshops
Reviews
Showing 1 - 3 of 3 reviews.
Review by Jannes
16/06/2015
Partly a personal manifesto of misanthropic musings and anti-capitalistic tirades, part thriller(-ish) set in the "culinary overworld." Works somewhat better than it ought to, but never really takes of or invokes any real sense of the strange and surreal, although it tries.The protagonists actions and motivations are never satisfactorily explained, which is a bit of failing in a novel with so much inner monologue and soliloquy.
Review by ElectricRay
16/06/2015
Wow. What a blitzkrieg. As the last ripples fan to the edge of the pool, and DBC Pierre's "loose trilogy" bids the world adieu, you wonder whether he's not having trouble letting go: at least three blind summits come and go before you finally get there (I was well and truly ready for it) and even then, after the curtain has fallen, DBC seems reluctant to sign off, calling from the wings, supplying rules of interpretation and further clues to the hermeneutic after the final whistle. You sure as hell need them, and that's no compliment from a traditionalist sort of a chap who believes a novel should stand or fall on its text as presented. I don't think you could say that in a million years about Lights Out in Wonderland, which raves and rambles all over the place, like a stream- of-consciousness fire hose that's been let go: it is bombastic, articulate, erudite, esoteric and often funny, but all the same it's a mess, it is incoherent, and I have absolutely no idea what Pierre's point was in writing it. Narrator Gabriel Brockwell plays like something between Rik from Comic Strip's The Young Ones and Richard E. Grant's character in Withnail And I (correct: neither are likeable figures) - by turns a fruitlessly over-educated dilettante and a selfish, hypocritical prig. Despite being on the end of telling damnations from characters as he goes (his father, his flatmate, his girlfriend, and various Germans) - these are the most coherent and biting passages in the book - Gabriel sees the world as everyone else's problem, and has resolved to kill himself. Being a self-described epicurean, philosopher and poet (Pierre appears to share this view: I'd describe Gabriel more narrowly as just a bit of a git) Gabriel wishes to end on a "nimbus" high (you sort of have to just imagine what this might be - he says "Whoosh" a lot) and so instead of quickly topping himself (which would have suited me fine) he effortlessly and implausibly glides, leaving a trail of utter destruction in his wake, from his voluntary sectioning in a mental hospital in the south of England via his London flat to precipitating an unfortunate death in a haute cuisine restaurant in Tokyo and organising an End-of-Days banquet in the soon to be derelict Tempelhof airport - once a jewel in the Nazi crown - at the centre of Berlin. His plan is to organise a Bacchanalian feast, spring his compadre from a Japanese gaol and finally, victoriously, buy the farm. Why this trajectory? Your guess as good as mine. Coherence doesn't seem to be a high priority for Pierre who, without so much as a by your leave, introduces characters, dilemmas and problems and just as casually jettisons them (or perhaps plain forgets about them) as he goes. It feels like this novel was written in a single, drug fueled blitz. For all that, the book remains surprisingly engaging. I got to the end, and I'm prone to binning books like this. It's so bombastic in style you can only get through it at pace, by aquaplaning, and at that pace there are consolations, though twenty four hours after putting the book down it's hard to recall what these are. The final feast descends at the end into something resemblent of Caligula - blackly comic, I suppose, if more than a little queasy - but I closed the book wondering what its point was, other to show off its author's obvious erudition and make the point, which hardly needed this industry, that we live in banal times. Pierre is able and willing to descend into gothic depravity, but he isn't funny enough and nor is his satire pointed enough to make his self indulgence worth the read.
Review by TimForrest65
16/06/2015
On balance, a good book and a good read. I think the memory of it will stay and it's a book I'm happy to have read. my only downside (but still recommend to read) would be stylistic issues - the ending fizzled to an near incomprehensible abstract exchange right after a huge climax, the footnotes were often interesting but distracting and occassionaly it felt like reading two books at once.that said, the themes and exploration of excess were top notch.