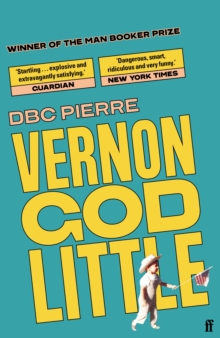 Vernon God Little
Paperback
Description
WINNER OF THE MAN BOOKER PRIZE 2003WINNER OF THE 2003 WHITBREAD FIRST NOVEL PRIZENamed as one of the 100 Best Things in the World by GQ magazine in 2003, the riotous adventures of Vernon Gregory Little in small town Texas and beachfront Mexico mark one of the most spectacular, irreverent and bizarre debuts of the twenty-first century so far.
Its depiction of innocence and simple humanity (all seasoned with a dash of dysfunctional profanity) in an evil world is never less than astonishing.
The only novel to be set in the barbecue sauce capital of Central Texas, Vernon God Little suggests that desperate times throw up the most unlikely of heroes.'A showpiece of superb comic writing . . . Out of the detritus of a morally bankrupt society, Pierre has fashioned a work of comic art.' Sunday Telegraph'In a just world, this ridiculously funny first novel would come free with every television set . . . Not since reading John Kennedy O'Toole's masterpiece, A Confederacy of Dunces . . . have I laughed so much or felt such sheer delight at the discovery of a wholly fresh comic voice . . . this novel reads like a modern day fairytale.' Mail on Sunday
Information
Format: Paperback
Pages: 288 pages
Publisher: Faber & Faber
Publication Date: 06/05/2004
ISBN: 9780571215164
Free Home Delivery
on all orders
Pick up orders
from local bookshops
Reviews
Showing 1 - 5 of 11 reviews.
Previous | Next
Review by JakyBF
16/06/2015
As a sixteen year old boy, I thought this was a great laugh-out-loud book, and a great way of combining British humour within an unmistakably American setting. Very much a modern 'catcher in the rye' type book, not supprised that it won such a prestigious award.
Review by achelate
16/06/2015
Such an astonishing book!! Enjoyed so much the humour and sadness in it.
Review by cmtusa
16/06/2015
If Catcher in the Rye and Southpark had a child, Vernon God Little would be their frenetic, foul-mouthed, Red- Bull guzzling offspring. Laced with witty vernacular and a constant barrage of verbal gymnastics, this book delivers like very few books do. One of the best books I've ever read. Highly recommended!
Review by kambrogi
16/06/2015
This coming-of-age story features Vernon Little, a fifteen year old small-town Texan who is implicated in murder and seems unable to defend himself against a misguided community. It is mostly a biting satire based on all the most common stereotypes about Americans, their life and culture (perhaps the aspect that made it so attractive to the Booker committee). Its greatest strength is young Vernon's marvelously human and individual voice, and its spot-on humor. Its weakness is perhaps the same – his offensive language, his adolescent views, the scatological and sexual excesses of his commentary. Many had the same response to The Catcher in the Rye at its debut, although its more serious approach appealed more to me. This story is entirely implausible, but as a work of social satire, that is beside the point. Readers will perhaps find it instructive as a cautionary tale, humorous in its approach to Americans' worst excesses, and delightful in its flawed but sympathetic protagonist. Although it is a 2003 work, it is especially timely right now, in that it takes special note of growing intolerance toward Hispanic citizens and their families.
Review by lenoreva
16/06/2015
Vernon's best friend shoots up a school and Vernon becomes a scapegoat and the chance of a lifetime for a greasy, slimeball loser named Lally. Local color is a tad distracting, but you gotta love a book that has this line: "Ella's (hair) always blown to hell, like a Barbie doll your dog's been chewing on for a month."