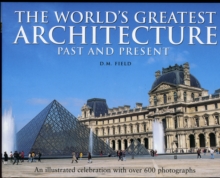 The World's Greatest Architecture - Past and Present : An Illustrated Celebration with Over 600 Photographs
Hardback
Description
"The World's Greatest Architecture" offers a panoramic view of nearly 300 individual buildings, each recognized as great buildings, from the earliest times to the present, and from every culture, including those, the majority of non-western cultures, where the division between art and craft are less likely to be distinguished.
Focusing mainly on large, spectacular or monumental buildings - cathedrals and skyscrapers, for instance - the subjects are arranged first by geographical region and second by chronology within each chapter.
Chapters are organized by periods. Learn about architecture in the ancient world, including Stonehenge, the great pyramids and Machu Piccu, the medieval world, including Windsor Castle, Notre Dame and Strasbourg Cathedral, the 20th century including Grand Central Station, Selfridge's Department Store and the Pompidou Centre and more.
Whether you are a seasoned lover of architecture or relatively new to the field, D.
M. Field's tome will prove a wonderful, photographic addition to your home library.
This is an extensive guide to the world's greatest architectural feats spanning from the ancient world to the 20th century. It is illustrated with over 600 photographs of all sorts of structures from Stonehenge to Grand Central Station.
It includes a glossary of architectural terms.
Information
Format: Hardback
Pages: 448 pages, over 600 colour photographs
Publisher: Anness Publishing
Publication Date: 24/03/2010
Category: History of architecture
ISBN: 9780754822820