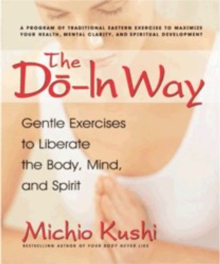 DO-IN WAY : Gentle Exercises to Liberate the Body Mind and Spirit
Paperback
Description
Do-In is an ancient traditional exercise for the cultivation of physical health, mental serenity and spirituality.
Over the last 5000 years it has served as the origin of such well-known modalities as shiatsu acupuncture moxibustion yogic exercises and meditation.
Literally meaning to pull and stretch Do-In originated in the Tao of Shin Sen as a way of achieving longevity and attaining the highest potential of mental and spiritual development.
Do-In offers release from physical sickness mental frustration and confusion and intellectual and social disharmony. Do-In techniques are a series of successive motions designed to harmonise body systems.
THE DO-IN WAY details the fundamental aspects of the exercise which involves breathing posture and self-massage and manipulation to stimulate bodily systems.
The gentle application of pressure on the body's meridians corresponds directly with physical processes and allows for the conditioning and stimulation of internal organs.
Do-In is a simple gentle exercise for achieving oneness between the self and the external world and for integrating that harmony into physical and spiritual nature.
Information
Format: Paperback
Publisher: SQUARE ONE PUBLISHING
Publication Date: 22/11/2006
ISBN: 9780757002687
Free Home Delivery
on all orders
Pick up orders
from local bookshops