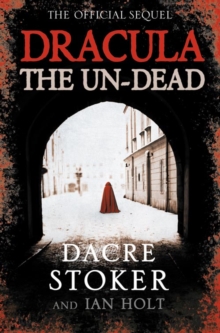 Dracula: the Un-dead
Paperback
Description
The official sequel to Bram Stoker's classic novel Dracula, written by his direct descendent and endorsed by the Stoker family. The story begins in 1912, twenty-five years after the events described in the original novel.
Dr. Jack Seward, now a disgraced morphine addict, hunts vampires across Europe with the help of a mysterious benefactor.
Meanwhile, Quincey Harker, the grown son of Jonathan and Mina, leaves law school to pursue a career in stage at London's famous Lyceum Theatre. The production of Dracula at the Lyceum, directed and produced by Bram Stoker, has recently lost its star.
Luckily, Quincey knows how to contact the famed Hungarian actor Basarab, who agrees to take the lead role. Quincey soon discovers that the play features his parents and their former friends as characters, and seems to reveal much about the terrible secrets he's always suspected them of harbouring.
But, before he can confront them, Jonathan Harker is found murdered. The writers were able to access Bram Stoker's hand-written notes and have included in their story characters and plot threads that had been excised by the publisher from the original printing over a century ago. Dracula is one of the most recognized fictional characters in the world, having spawned dozens of multi-media spin-offs.
The Un-Dead is the first Dracula story to enjoy the full support of the Stoker estate since the original 1931 movie starring Bela Lugosi.
Information
Format: Paperback
Pages: 480 pages
Publisher: HarperCollins Publishers
Publication Date: 24/09/2009
Category: Classic horror & ghost stories
ISBN: 9780007310340
Free Home Delivery
on all orders
Pick up orders
from local bookshops
Reviews
Showing 1 - 5 of 5 reviews.
Review by ElectricRay
16/06/2015
A few years ago, the spoof metal band Bad News recorded a cover of Bohemian Rhapsody. It was a sort of sub-Spinal Tap comedy effort and the point of the joke was to be deliberately awful, and it reached a gruesome crescendo with the guitar solo - so wincingly bad (hear it for yourself on YouTube) that it could only be the work of an exceptionally talented guitarist: no ordinary plodder could mangle something quite that badly. And, surprise, surprise, the Bad News cover was overseen by none other than Brian May himself.The reason I mention it is because I can't think of any other sensible explanation for the publication of this horrible little book - the Brian May in this case being not Bram, but his great grand-nephew, Dacre. Perhaps the Stoker literary genius is, like its creation, immortal, and lives on in the frame of his diluted bloodline. Unlikely, and it would only make sense if said inheritor, a onetime Canadian modern pentathlete apparently, latterly of Aiken, South Carolina, were also possessed of an unholy, un-American sense of irony, and minded to dreadfully mock his more famous Irish ancestor the way Brian May mocked his own guitar solo.As I say, unlikely.Mr Stoker, junior, has co-opted (or more likely, been co-opted *by*) a self-described "well-known Dracula Historian" called Ian Holt. Mr Holt's renown seems largely to have escaped Google, unless he is the same Ian Holt who scripted "Dr Chopper" a 2005 straight-to-video release whose IMDB plot summary is: "Five young friends head out to the country for a weekend at the family cabin and run afoul of a group of motorcycle riding madwomen led by the sadistic, knife-wielding plastic surgeon Dr. Fielding."Having read Dracula: The Undead, I have a sneaking suspicion it just might be the same Ian Holt.Now if the sound of Dr. Chopper makes your heart sink, then look away now, for that is, at best, the level of wit and sophistication you will find in "Dracula: The Undead". This is a toweringly awful; stupendously inept; and thunderingly dull book: a veritable tour de force of witless, guileless, inanity - although it is so bad that, perversely, it is entertaining in manner of an Ed Wood movie; I found myself boxing on, propelled by the simple disbelief that anyone gormless enough to write this mush had the commercial acumen, tenacity and perseverance to bring it to market. Somehow, I spent money on this thing, after all, even if it was only £4.It's also outrageously cynical: I dare say Dacre Stoker was well rewarded for lending his family's name and imprimatur to this project, but in no other respect does this novel even faintly resemble the fictional universe, style, world-view, sophistication, or literary outlook of Bram Stoker's original. Be in no doubt: this is a cheap, low rent, sub-porn slasher novel written without feel or sympathy for the original, or even the genre from which it comes, however hackneyed that may now be. In a splendid irony, Dacre claims to be the godson of the submarine commander "whose tactics were instrumental at Gallipoli" (for the unschooled in military history, the naval campaign at Gallipoli was something of a scoreless draw, but the land leg was a total disaster), and history seems to have repeated itself: if Stoker's name has put the troops on the beach, Ian Holt's dolorous visualisation has massacred the poor blighters. I'm giving Dacre Stoker the benefit of the doubt that he didn't *really* contribute to this novel (Bram certainly didn't: the suggestion that Undead's storyline was somehow crafted out of notes left by Bram Stoker is disingenuous in the extreme), but even if he did consider how interested you'd be in "MacBeth II" written by a distant relative of William Shakespeare.Granted, Bram Stoker might have been no Shakespeare in an absolute sense, but compared with his great grand-nephew he certainly was. As it happens, I had re-read Bram's original novel a fortnight ago, so it was fresh in my mind. While it's a little flabby in places, in the main Dracula is beautifully staged and elegantly written with some devastatingly good passages, and manages its horror through unease: being epistolatory, the novel unfolds through contemporaneous records of protagonists who didn't know what is going on: there is therefore a creeping, implied, dread. The horror - and submerged sexuality - is almost all implied, and mostly metaphorical. Scarcely a drop of blood is shed in Bram Stoker's novel.Would that any of this were true of Dracula: The Undead. Fat chance. Lesbian sadomasochistic murder - I'm not kidding - commences on page 14, and after a hiatus of leaden plot exposition (and shameless revision) for the benefit of those who might have forgotten what happened in the original Dracula, this sequel settles into a lumpen, tepid bloodbath of gore, impalation, amputation, disembowelling, eye-put-outing, flesh-charring, and so on (quickly it becomes a blur) thereafter. I'm not being prudish or squeamish here - there are books which I've found so repellent I couldn't go on (Justine, for example), and this wasn't one of them - my objection is simply that this is poor literature: dull, monotonous and unimaginative, derivative and devoid of narrative interest or significant characterisation. It pales in comparison with the Gothic beauty and psychological horror of Stoker's original. While professing undying love and scholastic commitment, neither author seems to have the remotest conception of what is so good about Bram Stoker's novel.It's also clumsily written and miserably sub-edited. Arch-villain Countess Bathory (yes, I know, the arch villain's meant to be Dracula, right? WRONG!), appears to be able to move instantly between London and Paris (and between Highgate and Hampstead cemeteries, though admittedly I think that may just be clumsy sub-editing) and at one point is given a superhero-like power of flight, which she uses to instantly fly from Paris to London, whereupon she boards a horse-drawn carriage and heads, in a hurry, for Whitby in Yorkshire (Whitby being just as far from London (as the lesbian vampire flies) as Paris)! When she gets there the great vamp-on-vamp showdown (!) is conducted via - and how I wish I were making this up - a sword fight. Honestly. And best not talk about the "Darth Vader" moment. Yes, there is one, and you'll never guess what it is! It truly beggars belief.I could go on. You sense the authors very definitely had a screenplay in mind, with plenty of CGI, wires and Underworld-style visuals - a big budget follow up to Dr. Chopper, perhaps. God help us if that's the case - though you have to wonder whether it's not publisher's hype - or wishful thinking - to shift some copies if this horrid little book.In the mean time, I leave the final word - out of context, I grant you - to the authors themselves:"If there were to be any truth to Stoker's novel it would have to be where no sunlight could ever reach".You can stick this, in other words, where the sun don't shine.
Review by gaskella
16/06/2015
Co-written by Bram Stoker's great-grandnephew and a vampire expert, this official sequel tries to shoehorn in every single bit of vampire lore into its length, moving the action on into 1912, 25 years after the original novel ends. Someone is after the survivors of the original band of heroes who 'killed' Dracula and is picking them off one by one - it appears to be another evil historical figure - Elizabeth Bathory, another real person who is reputed to have bathed in girls blood, or could it be Jack the Ripper(!), or has Dracula risen again from the undead. It's up to Jonathan Harker's wife Mina, and son Quincey to stop them or be killed themselves. The novel was never sillier than when they put Bram Stoker himself into the plot as a struggling writer trying to put on a ridiculous play of his novel - for a book supposing to put right the injustices done to the Stoker family when they were denied royalties for Dracula in the USA, I couldn't understand this move. Mercifully it was a quick read!
Review by bibgirl
16/06/2015
I really hate to do this, be really negative about any book especially one I haven't finished but I just dont have anything positive to say about this. It may be the worst book I have ever read. It is badly written, badly plotted, the dialogue is dreadful and the book is incredibly tedious. It is just such a chore to read I almost left it on the train but I would have felt bad if someone else had found it and tried to read it.The plot if it can be called that follows on 25 years after the defeat of Dracula. It deals with the original group of characters who have carried on with theire lives but all bearing the emotional scars from the original encounter. Their lives are described in a series of boring overly long flashbacks, the sole purpose of which seems to be to pad the book out. The Harkers & co. are being hunted down one by one by a new evil and this is where any attempt at a coherent plot ends.It introduces Elizabeth Bathory as a female lesbian vampire, has Bram Stoker as a theatre owner and author of a play Dracula, name drops anyone and everyone from the time period from the actors in the play to the inspector who investigated Jack the Ripper and who is convinced that the new victims mean Jack is back and he is indeed Van Helsing, ( one of the original prime suspects in the case - who knew? ) aided and abetted by his Dracula co - conspirators. Is Dracula himself back or are Bathory and her companions the only vampires, who knows, 175 pages and I don't think I can carry on much longer to try to find out. It is driving me to house cleaning to avoid reading it. If anyone else is unfortunate enough to find that they have chosen this book to read perhaps if they make it to the end they will let me know.
Review by thejohnsmith
16/06/2015
This was a thoroughly entertaining novel. Well written, good plot, interesting characters - quite a page turner. The story takes place several years after the events of the original Dracula and introduces Elizabeth Bathory, a truly evil vampire. Dracula is somewhat re-written from the original - someone has suggested he's been 'twighlighted' and that's a fair assessment. That didn't detract from the enjoyment of the story for me though. Well worth reading.
Review by adpaton
16/06/2015
Oh dear, this book was really dreadful, amateurish and full of anachronisms. Mina Harker was seduced by Dracula [who is actually a goodie, regarding himself as a warrior for Christ]] and he awakened passions in her that the weakling and soon-to-be alcoholic Jonathan Harker could never hope to emulate with his vanilla love making. Jack Seward is a morphine addict, Lord Godalming never recovers from his broken heart, Van Helsing is not the kindly patriarchal saint we imagined him, and Mina's son [now 25] is a naive and judgmental prig. A thoroughly unlikable set of characters.Add the villainous Elizabeth Bathory to the mix and oh dear - Bram Stoker is surely spinning in his grave...