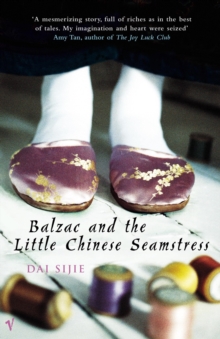 Balzac And The Little Chinese Seamstress
Paperback
Description
1971: Mao's cultural Revolution is at its peak. Two sons of doctors, sent to 're-education' camps, forced to carry buckets of excrement up and down mountain paths, have only their sense of humour to keep them going.
Although the attractive daughter of the local tailor also helps to distract them from the task at hand.
The boys' true re-education starts, however, when they discover a hidden suitcase packed with the great Western novels of the nineteenth century.
Their lives are transformed. And not only their lives: after listening to the stories of Balzac, the little seamstress will never be the same again.
Information
Format: Paperback
Pages: 176 pages
Publisher: Vintage Publishing
Publication Date: 01/01/2001
ISBN: 9780099286431
Free Home Delivery
on all orders
Pick up orders
from local bookshops
Reviews
Showing 1 - 4 of 4 reviews.
Review by DubaiReader
16/06/2015
A delight to read.This would have been a pleasant enough read but it was the humour embodied in the story that raised it to a 4.5 star book. At only 172 pages, it was a delight; I don't often say this but I'd have loved it to have been twice as long so that I could have given it 5 stars.Luo and his friend, the narrator, are teenagers in 1971 when they are sent to a remote Szechuan village for 're-education'. From the moment they arrive with a violin which they rescue from its fate of burning by announcing that one of the songs it plays is "Mozart is thinking of Chairman Mao" it was obvious that this was not your usual cultural Chinese fiction. The boys are expected to perform the most mundane and unpleasant tasks but their upbeat attitude carries them through and provides the reader with an insight into this aspect of the Chinese cultural revolution without the usual misery.Luo's ability to tell wonderful stories results in their being sent on regular two day trecks to a neighbouring town just to watch cinema and report back. His versions of the films are a resounding success in the village.It is while on one of these trips that they meet The Chinese Seamstress and both fall madly in love. They also meet Four-Eyes, owner of an illicit collection of banned books - and they will stop at nothing to get their hands on these.The author was, himself, sent for 're-education' in the 1970s and this knowledge adds real authenticity to the narrative.There's a lot packed into this short novel, don't miss it.
Review by cbl_tn
16/06/2015
During China's Cultural Revolution, millions of young people were sent from China's cities to the country for "re-education". Dai Sijie writes of two teen-aged friends sent to a village in a mountainous rural area. The pair come up with various schemes to make life in the country bearable. When they discover a cache of contraband Western literature, they set out on a re-education program of their own, with a beautiful young seamstress from a neighboring village as their student.The author was himself a re-educated youth, so he writes from personal experience. The story is told in first person by one of the young men. The pair reminded me a little bit of Tom Sawyer and Huck Finn in their ability to out-wit their elders while maintaining an aura of innocence. The harshness of the conditions these youths faced is conveyed with irony and cynicism. I think it drew more sympathy from me than an angry or self-pitying voice would have done. The book will appeal to readers who like books about books, historical fiction, books by international writers, and books in translation. It would be a great reading choice for a book group.
Review by thornton37814
16/06/2015
Chairman Mao sent thousands of youth into mountain villages from the city to be "re-educated" during the Chinese revolution. This is the story of the son of a doctor and the son of a dentist who were sent to a village. On the mountain, they encountered another young man undergoing re-education who had a suitcase full of contraband books, including Balzac. After reading the book, they shared the story with the daughter of a tailor who was a seamstress. It's an eye-opening look at some of what took place during the Chinese revolution. There is more to the plot, involving the stories of villages, residents of the mountain, family members, etc., but I don't want to give away the rest of the story. In the end, I liked the story, but I didn't love it. It does, however, make those of us who live in non-communist-regime countries grateful that we did not have to undergo a similar experience.
Review by Mercury57
16/06/2015
During the Maoist regime of 1970's China, reactionary individuals were packed off to the countryside to be cleansed of their bourgeois attitudes and made ideologically pure through daily toil and close contact with the peasant stock.For the two central characters of Dai Sijie's Balzac and the Little Chinese Seamstress, their exile in a remote village close to Tibet provides an education far removed from that desired by the leaders of the Cultural Revolution. A chance encounter leads them to a suitcase full of forbidden books by Balzac, Hugo and Flaubert. They devour the books huddled over an oil lamp in their barren room, often reading throughout the night until the first light of dawn. Literature becomes their passion and a way of escaping the desperation of their situation.When the Little Seamstress enters their lives, their passion for books and their passionate desire and love of this beautiful tailor's daughter coalesce. She too goes through a process of education but the result is not one the boys expect and the experience has a profound effect on their lives.In essence this is a story of the joy and despair of young love or of 'love against all the odds'. It's a poignant tale but what stops if from being overly sugary is the way Sijie interjects humour into his narrative. In the very first scene the two boys convince the village headman that the violin sonata they play is called "Mozart Is Thinking of Chairman Mao". Later they sit on a filthy bed, feeling the lice creeping up their legs to hear some true songs of the mountain peasants only to find they are meaningless and bawdy ditties.Though it's a slim book – more of a novella really at only 160 pages – but it packs in a lot of symbolism. The themes and motifs of the books they read in many ways parallel the experience of the trio with their references to exile and illicit love. When a snake bites the hand of the seamstress leaving a permanent star, we get an early warning signal that this Garden of Eden is likely to become a lost paradise before the book is over.If I have a gripe with the book it's the treatment of the ending. It felt as if the author had run out of steam after recounting a moment which is the dramatic turning point of the story – and couldn't find a way of finishing expect to do a quick summary of what happened subsequently. It was disappointing to find the lives of these three engaging characters dismissed so rapidly.