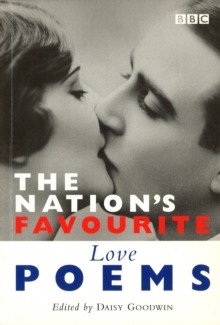 The Nation's Favourite: Love Poems
Paperback
Description
From the first flush of love, through courtship and vows of eternal fidelity, to serving the writs and drowning your sorrows, 'The Nation's Favourite Love Poems' will meet all your romantic requirements. In this selection of 100 popular poems, poets of every age consider that most universal of themes: love.
As well as traditional lovers' favourites such as Elizabeth Barrett Browning's 'How do I love thee?' and Shakespeare's 'Shall I compare thee to a summer's day?' there are contemporary voices such as Adrian Mitchell, Wendy Cope and John Fuller, whose erudite yet salacious 'Valentine' would melt the most fridgid heart.
There are even poems for those more melancholic moments, Hardy's haunting 'After a Journey', for example, and Larkin's poignant 'Love Songs in Age'. So, wherever you are in the tunnel of love, dip into this book of poetry and you will be reassured to discover that at one time or another a poet has been there before you.
Information
Format: Paperback
Pages: 160 pages
Publisher: Ebury Publishing
Publication Date: 02/10/1997
Category: Poetry
ISBN: 9780563383789
Free Home Delivery
on all orders
Pick up orders
from local bookshops
Reviews
Showing 1 - 2 of 2 reviews.
Review by tripleblessings
16/06/2015
A collection of 100 favourite English-language love poems, as voted by BBC audiences in 1997. Edited by Daisy Goodwin. Includes classics from Elizabeth Barrett Browning, Shakespeare, Donne, Keats and Yeats, Auden, Burns, Marvell, and others more contemporary. An interesting collection, and a nice gift book.
Review by JonQuirk
16/06/2015
Why is poetry so much the Cinderella of modern-day writing? The reading of books, both fiction and non-fiction is going through something of a renaissance, but poetry, which in so many ways encapsulates the essence of the modern lifestyle – abbreviated, terse and sparse of phrase; more sound-bite and MTV video clip than Shakespeare – seems to be the wallflower, left unchosen and un-danced. Yet redolent of romance; verse talks so much more to the soul, echoes the rhythm of the heartbeat, and much the better recalls those fond memories that jumped the heart-beat, relit the full colour of that passionate encounter, that intense glance, that meaningful touch – re-igniting those magical moments of the past. I was lucky - I grew up, born as John Denver said in the summer of my 27th year (tho' actually my 19th) - in the artistic heart of Liverpool. Centred on Hardman Street that steep hill of bars, restaurants wending up from Bold Street at the city end to the University, wandering past the art college of John Lennon fame, the Chauffeurs private club, the Cabin Club at the bombed out St Georges church end and taking in the Everyman Theatre from where Willy Russell, Barbara Dickson, Julie Walters et al first captivated and challenged, to the Philharmonic pub of the fabled Victorian pink marble latrines, standing on the opposite corner, where on most Wednesday evenings the Liverpool Poets held a small but rapt audience in thrall and beers, or rather it should be said, we held them in beers. Can poetry ever have been so cheaply bought? The Nation's Favourite Love Poems – a selection of Romantic Verse, a BBC book, captures some of the verses of the irreverent Liverpool four and so very much more. It tickles and warms the heart to imagine such "stuffy" writers as John Betjeman lost in love - feeling his heart leap as he writes of Miss J. Hunter Dunn. Wendy Cope says it with Flowers Some men never think of it. You did. You'd come along And say you'd nearly brought me flowers But something had gone wrong. The shop was closed. Or you had doubts – The sort that minds like ours Dream up incessantly. You thought I might not want your flowers. It made me smile and hug you then. Now I can only smile. But, Look, the flowers you nearly brought Have lasted all this while. In this selection of 100 poems, poets through the ages scribe out their hearts, or write lucidly and whimsically of passion and lust –try to read John Fuller's salacious ode- Valentine - without secretly melting and laughing inside – I'd like to find you in the shower and chase the soap for half an hour. Most books are read and discarded – this book, and the memories, warmth, humour and style will remain with you, or as so much more magically put by Leigh Hunt in 1859, recalling a kiss from more than half a century previous, Jenny Kiss'd me when we met Jumping from the chair she sat in; Time, you thief, who loves to get Sweets into your list, put that in! Say I'm weary, say I'm sad, Say that health and wealth have miss'd me, Say I'm growing old, but add, Jenny kiss'd me. Do yourself a real treat, put a real spring into your stride - re-capture the full essence of the lust in living – dive full body into a book of poetry!! Better yet, share it with, or give it to, your loved, or lusted one! Flowers fade, but words coalesce, take root and remain.