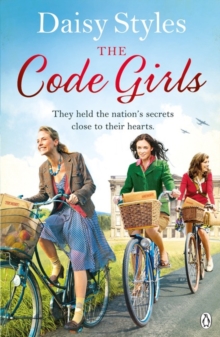 The Code Girls
Paperback / softback
Description
**A heart-warming and inspiring story of incredible women on the home-front during World War II from the author of The Bomb Girls**Can four girls protect a whole country? It's 1941 and the country has been turned upside down.
For the aristocratic Walsingham family this means being pushed unceremoniously upstairs while their grand home is taken over by the Army.
But for newcomers Ava and Maudie this is a chance to get something more from life.
They are at Walsingham Hall to become code girls and break German encryptions. So being sent downstairs to work in the kitchens isn't exactly what they had in mind.
But they do their duty, make new friends and soon even romance looks to be on the horizon.
Though life is tough, it has never been more exciting. Meanwhile, upstairs, Lord Walsingham is hiding something. And Maudie and the girls realize that the safety of their country might actually be in their hands after all . . . *PREORDER THE BOMB GIRLS SECRETS NOW*Praise for The Code GirlsFeisty young women, a country house in wartime and a scheming aristocrat - all ingredients for a cracking story with truly endearing characters - Annie Murray, bestselling author of, Now The War Is OverPraise for Daisy Styles'A great read that I think will appeal to fans of wartime sagas and authors like Donna Douglas . . . From dances to disasters, encounters with handsome Yanks, rationing and relationships, The Bomb Girls has all the ingredients of an excellent wartime drama and I thoroughly enjoyed it!' Onemorepage.com'The story is full of drama, love, heartbreak, friendship and in some part some comedy . . . It's full of twist and turns and is a real page turner' LaurahbookblogHere's what the early readers are saying . . . 'Loved, loved, loved it! ... Cannot wait to read more by this author''This story tells the story of four very different young girls and how they come together to help the war effect in their own way . . . would highly recommend to others''A beautifully written book ...
An excellent read, from the relationships, the cooking, the love interests and the way war affected everyone's lives.
A must read!''This book had me gripped from the first page and I had it read in one sitting''I really loved these characters, they were feisty and believable.
I would definitely recommend this book to everyone who enjoys wartime stories.
This is one of the best''I really enjoyed Daisy Styles The Bomb Girls so was overjoyed to find she had written another set in the same era ... a really good story with interesting likable characters''The storyline was exciting, the characters so interesting and the era well descripted. I would definitely recommend this book''Fab book!''Fantastic ...
This was full of twists, turns, ups and downs; a real rollercoaster.
Loved the plot and loved all the characters. Highly recommended''I absolutely love these type of books and this one certainly was a great read..
Actually no it wasn't just great it was fantastic'
Information
Format: Paperback / softback
Pages: 464 pages
Publisher: Penguin Books Ltd
Publication Date: 25/08/2016
Category: Sagas
ISBN: 9781405924368
Free Home Delivery
on all orders
Pick up orders
from local bookshops