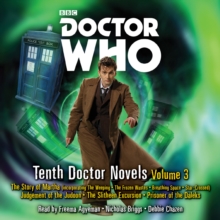 Doctor Who: Tenth Doctor Novels Volume 3 : 10th Doctor Novels
CD-Audio
Description
Freema Agyeman, Nicholas Briggs and Debbie Chazen are the readers of these eight original stories featuring the Tenth Doctor and Martha, as played on TV by David Tennant and Freema AgyemanJoin the Doctor and Martha on these journeys in Time and Space.
The first five stories detail Martha's journey around the Earth during the Master's reign, and the stories she tells of her adventures with the Doctor.
The last three novels tell of the Doctor's own adventures as he partners with the Judoon on the trail of a notorious criminal, encounters Slitheen in Ancient Greece, and joins a party of Dalek bounty hunters in an era before the Time War. The Story of Martha by Dan Abnett. Read by Freema AgyemanThe Weeping by David Roden. Read by Freema AgyemanThe Frozen Wastes by Robert Shearman.
Read by Freema AgyemanBreathing Space by Steve Lockley & Paul Lewis.
Read by Freema AgyemanStar-Crossed by Simon Jowett. Read by Freema AgyemanJudgement of the Judoon by Colin Brake.
Read by Nicholas BriggsThe Slitheen Excursion by Simon Guerrier.
Read by Debbie ChazenPrisoner of the Daleks by Trevor Baxendale.
Read by Nicholas BriggsBased on the hit BBC TV series.
Duration: 23 hours 25 mins. (P) BBC Studios 2018(c) BBC Studios 2018Text (c) Dan Abnett 2008, David Roden 2008, Robert Shearman 2008, Steve Lockley & Paul Lewis 2008, Simon Jowett 2008, Colin Brake 2009, Simon Guerrier 2009, Trevor Baxendale 2009Doctor Who theme music composed by Ron Grainer and arranged by Murray GoldTARDIS sound effect composed by Brian HodgsonDigital Edition Chapter ListingThe Story of MarthaFiles 1-2The WeepingFile 3Breathing SpaceFile 4The Frozen WastesFile 5Star-CrossedFile 6Judgement of the JudoonFiles 7-27The Slitheen ExcursionFiles 28-52Prisoner of the DaleksFiles 53-77
Information
Format:CD-Audio
Publisher:BBC Worldwide Ltd
Publication Date:02/08/2018
Category:
ISBN:9781787531772
Other Formats
eAudiobook MP3 from £10.66