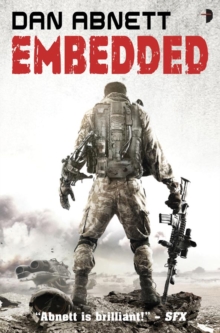 Description
A journalist gets himself to the front line by being chipped into the brain of a combat soldier...but when that soldier is killed, he has to take over the body and get himself back home again, broadcasting live on an open feed...
Information
Format: Paperback
Pages: 352 pages
Publisher: Watkins Media
Publication Date: 01/04/2011
Category: Science fiction
ISBN: 9780857660909
Free Home Delivery
on all orders
Pick up orders
from local bookshops
Reviews
Showing 1 - 2 of 2 reviews.
Review by tottman
16/06/2015
I was fortunate to receive an early review copy of Embedded by Dan Abnett. The story is about a cold war gone hot on an alien world and the reporter who is there to experience it.Embedded is military sci-fi with a couple of innovative twists. It is told through the eyes of a reporter, Lex Falk. Falk is a successful, jaded reporter who has bounced around from planet to planet. He becomes convinced there is a story at his latest stop, a big story. When he gets the run-around from the military authorities, he agrees to a secret radical procedure that allows him to share the consciousness of a soldier in the field. An accident leaves him in control of the soldier's body and forces him to attempt to get to safety while at the same time discovering the secret to what turns a centuries long cold war into a real one.Some of the story techniques were more annoying than clever. New words are made up with their meanings left to be intuited, but they are not very intuitive and are never defined. None of the characters have a great deal of depth, but a few of the female characters are especially thin. They show up with minimal explanation, move the story along a little and then disappear. The description of the planet was good, but could have been explored more. It felt half-finished. A little less reporter angst and a little more world-building might have been a better balance.The action sequences are fairly well done and carry the story along at a pretty good clip for the last half of the book. The description of sharing consciousness with another person was also very well done; especially a sequence where Falk is lost in the memories of the soldier leaving both Falk and the reader somewhat disoriented. The technology is sufficiently futuristic making for battles that are a lot of fun to read. The concept of military sci-fi told through the eyes of a non-soldier is an interesting one. The story doesn't quite deliver on the intriguing premise, but is still a worthwhile read.
Review by TadAD
16/06/2015
Dan Abnett has a large following for his military science fiction, so I gave one a try. I guess I'd say that it passed a few hours.It had a fairly interesting premise: a jaded veteran reporter, Lex Falk, tries a new technology that allows his mind to ride piggy-back in the mind of a combat trooper, Private Bloom. An ambush damages Bloom's mind, so Falk must try to survive in hostile territory with the muscle memory of a combatant but only his own—decidedly non-military—mental skillset.As far as action goes, this book delivered reasonably well. From the time the mission begins until just a couple of pages from the end, it's a fairly non-stop shoot 'em up. Abnett sets up a rational premise for the conflict, makes the ensuing scenes fast-paced and somewhat breathless, and manages to stay comfortably out of the danger zone of "Oh, come on...no way they got out of that!" About the only black mark I'd give the plot is the ending, which is very abrupt and doesn't provide a feeling of closure on everything that has happened.From a character point of view, the novel has a bit less to offer. The characters are flat, stereotypical grunts or flat, stereotypical government bureaucrats or flat, stereotypical...you get the idea. Even Falk's hard-bitten reporter persona is only given a skim coat at the beginning of the book and then goes on autopilot. About the only depth that does occur is that we get to watch Falk struggle a (small) amount with the moral question of having his link to Bloom severed, probably saving his own life, versus trying to get Bloom's body to safety so that doctors can try to save him.Abnett does make a few token passes at media responsibility, big business cover ups, government corruption and the like, but they are really just pro forma and don't really impinge upon the reader to any great extent.Beyond that, I have to say that I found the concept of mental implants that allowed corporations to use your speech as an advertising medium quite funny.This isn't a book with any depth, so my recommendation would depend upon what you are looking for. If you're looking for a quick beach read, this is light enough that you might want to give it a try. If you're looking for the better quality military science fiction, the kind that makes you think a bit, you might want to browse further.