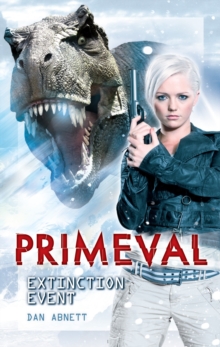 Description
When strange anomalies in time start to appear Professor Cutter and his team have to help track down and capture a multitude of dangerous prehistoric creatures from Earth's distant past...and distant future.An Entelodon goes on the rampage down Oxford Street in central London causing untold damage and loss of life, and Cutter decides a new approach to tackling the anomalies is needed.
When a mysterious Russian scientist arrives at the ARC, Cutter thinks he might have found the answer...In this brand new original never-seen-on-TV Primeval adventure Cutter and the team are forced to travel to Siberia to confront an anomaly problem on an epic scale...
Information
Format: Hardback
Pages: 272 pages, chiefly col. Illustrations
Publisher: Titan Books Ltd
Publication Date: 23/01/2009
Category: Science fiction
ISBN: 9781845766931
Free Home Delivery
on all orders
Pick up orders
from local bookshops
Reviews
Showing 1 - 1 of 1 reviews.
Review by kingoftheicedragons
16/06/2015
Note: This book takes place between the second and third seasons of the prematurely canceled series. Nick Cutter starts thinking that the ARC team needs to start coordinating their efforts with those of other countries. Surely, these anomolies must be appearing all over the globe, and there must be other teams trying to deal with them. If they started to pool their resources and know-how, it would be better for all (of course, we already know they've been opening elsewhere thanks to the first two books that took us to South America and off the coast of Ireland). While Lester is hesitant to pursue that avenue, the team soon finds itself in Russia under the not so best of circumstances. Dan Abnett, early in the book, as the Entelodons make their rampage on Oxford Street, gives some ink to the human condition and after effect of the unexpected occurence that day. Something that I always seem to be asking myself in my life when I hear stories about someone's life being cut too short; about that person's joys and sorrows, and what they had planned for the rest of the week. In Extinction Event, you get a burst of nonstop action right from the start, as the anomolies seem to be popping up in London at a greater frequency than they had been, which pulls you into the story without waiting for something to happen. And the chapters are very short--no more than 8 quick pages long, another tactic that makes it easy to continue on reading with the book. And Dan Abnett also uses his knowledge of what happened in the first two books (and the TV series) to his advantage in this book, as he references events from the first two books, as well as foreshadowed Jenny's resignation from the ARC in the third season as well as Connor's first starting with the idea of closing the anomolies. And I loved the connection with the 1908 Tunguska meteor strike.But before we get to the things I didn't like about the book, let me just say that I loved the TV series--it was one of my favorites. As for the books, I loved the first one; the second one I was a bit mixed about. This one? Well...Dan Abnett didn't seem to fully understand his characters. At the beginning of the book, it was fine. He seemed to have them all down as well as I would have expected him to have. However, with the exception of a consistent Lester and Cutter, that knowledge of the characters seemed to evaporate as the story went on. I had a hard time imagining the characters of Abby, Connor, or Jenny behaving or saying the way they did as this story progressed. He seemed to make the three of them not much more than window filling, and not very intelligent ones at that. All the characters seemed a bit shallow to me, whether they were the main characters or the supporting characters of the story. Dan Abnett seemed to keep retreading the same ideas and theories as the story progressed that it made it hard for the story to actually progress--it seemed like he was just going round and round with the story, and the story could have been a lot shorter. It makes it seem like he was just trying to drag the story out and make it longer. (from page 158):"Troodons," Cutter whispered to Abby. "Oh, they're amazing. Look at the eyes." The eyes were following them keenly. The Troodons chirred and piped, lowering their necks to look inquisitively at Yushenko and his purring camera."Are they Troodons?" Suvova asked...Um, wasn't it just established that they were in fact Troodons. Why retread the same information so close to each other. It also seems that the author was trying to stick as many names of dinosaurs into his book as possible. I have to wonder if there were more dinosaurs wondering around in Siberia than in all of the Cretaceous. So, in the end, I was thoroughly disappointed with this book. I often found myself reading it just to get to the end more than anything else. I was determined to finish the book, as I almost found myself thinking that stopping it in the middle would have been like watching half of an episode and then turning off the TV.