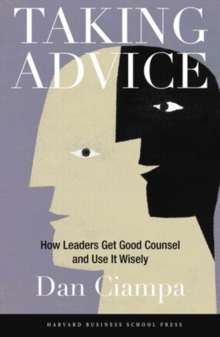 Taking Advice : How Leaders Get Good Counsel and Use it Wisely
Hardback
Description
Leaders can find plenty of resources explaining how to give advice.
But what about how to take advice? According to Dan Ciampa, too many leaders overlook this "demand side" of advice.
In Taking Advice, Ciampa explains that more outside advisors than ever are offering leaders advice in increasingly costly projects.
Yet as advice has become more ubiquitous, leaders have grown less satisfied with it--especially when dealing with high-stakes, unfamiliar situations that require assertive action and speed but also wise judgment.
Also, leaders too often overlook help from colleagues, board members, subordinates, friends, and spouses.
Good advice bridges the gap between a leader's vision and realization of that vision.
When leaders fail to solicit advice or obtain it from the wrong sources, the leader and his vision suffer.
By offering the broadest perspective on advice to date, Ciampa helps you avoid this scenario.
He provides a topology of advice (strategic, operational, political, personal) and defines four types of advisors (expert, experienced, sounding board, partner). He also identifies the defining characteristics of effective advice takers--illustrating them with a wealth of examples from business, the public sector, and history.
Free Home Delivery
on all orders
Pick up orders
from local bookshops
Also by Dan Ciampa