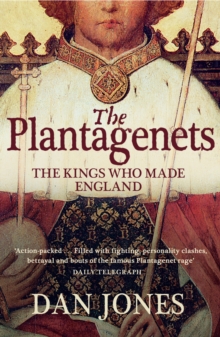 The Plantagenets : The Kings Who Made England
Paperback
Description
This brilliant new book explores the lives of eight generations of the greatest kings and queens that this country has ever seen, and the worst.
The Plantagenets - their story is the story of Britain.England's greatest royal dynasty, the Plantagenets, ruled over England through eight generations of kings.
Their remarkable reign saw England emerge from the Dark Ages to become a highly organised kingdom that spanned a vast expanse of Europe.
Plantagenet rule saw the establishment of laws and creation of artworks, monuments and tombs which survive to this day, and continue to speak of their sophistication, brutality and secrets.Dan Jones brings you a new vision of this battle-scarred history.
From the Crusades, to King John's humbling over Magna Carta and the tragic reign of the last Plantagenet, Richard II - this is a blow-by-blow account of England's most thrilling age.
Information
Format: Paperback
Pages: 672 pages, (16pp B/W plates)
Publisher: HarperCollins Publishers
Publication Date: 04/07/2013
Category: British & Irish history
ISBN: 9780007213948
Other Formats
EPUB from £4.99
eAudiobook MP3 from £23.48
Free Home Delivery
on all orders
Pick up orders
from local bookshops
Reviews
Showing 1 - 1 of 1 reviews.
Review by tonysomerset
16/06/2015
I never got history, lists of Kings and Queens and their battles left me cold. Watching the White Queen on the TV I realised how little I actually knew about our countries history. So got this book. What a readable revelation! Began to see and understand our path towards this modern Britain in a totally new light.Kingship was all about power broking, doing deals with all and sundry to keep you as top dog. Selling your daughters off to make new alliances only to renege and go to war afterwards. Ever watchful who was around to challenge your supremacy, watching your trusted friends you needed to keep hold of your power base only to sell them short or betray them. Rough, tough and evil. As long as you had control you could take whatever you fancy and hold as your own. So long as there was no challenger.Of course you had to call in your favours and require your supporters to fight for your cause. If you won you had land, plunder and daughters to dispose off, if you lost you had to retrench and recover your power base. Your claim to the monarchy was only as good as the band of supporters. There were always rivals around trying to muster up support to challenge your power base, if you were not able to kill them off.How you chose to flaunt your access to the wealth of the land depended on your own view of kingship. This view was under constant threat from the band of supporters you had to rely on. They were keen to limit the wilder extremes of your profligacy, without exposing themselves individually, to any retribution. Maybe it is just the judgement of hindsight but so many of the monarch's were imbecilic in how they reigned. The few notable exceptions rising above the generality that absolute power corrupts absolutely. Hindsight interpretations are offered a plenty to the whys and possible wherefores for so many of the incredibly stupid actions. But we were not there so could not understand the realities of day, just this gentle guide suggesting how it might have been. Slowly over reigns the law of the land became modified heading towards the balance between the monarch and the commoners we have now. All fascinating stuff. Told so entertainingly, so free of academic correctness. Scooping up all the handed down fables and legend we have grown up with and putting them into their correct context. I learnt so much about my countries history, eagerly turning the pages, all the while without realising it. During the course of this long book, despite the gentle reminders of sequence, from time to time I lost track, of who succeeded who and how they were related. But it did not matter, I wasnt taking any exam. Certainly the succession of families that came and went in and out of favour, only to return, only to be disposed off, all got baffling. Some were minor insignificant players, others had leading significance over several reigns before they too eventually fell foul of regal wrath. My fault, I should have paid more attention, the players were all given their thumbnail histories to relate them to their place in the unfolding tale.The more I read there more I wanted to know. How on earth did the common people live and survive the constant pillaging, taxing, call to arms, the constant switching of loyalties. How were the so frequent wars carried out, how were the armies mustered and controlled? Which of the important emergent families survived and do their stately homes still survive. How did the monarch actually operate on a day by day basis to contain and control his kingdom, several hints but so short on detail. But surely that is the sign of a good history book, leaving you excited and eager to find out more?