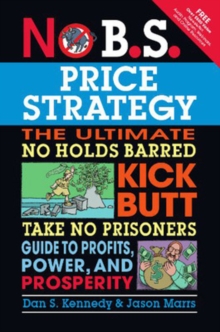 No B.S. Price Strategy: The Ultimate No Holds Barred, Kick Butt, Take No Prisoners Guide to Profits, Power, and Prosperity
Paperback / softback
Description
FREE -- Insider's Circle Trial Membership,Newsletter, Audio Program, Special Webinar Series, and More!Take CONTROL of your PROFITSMillionaire maker Dan S.
Kennedy and marketing strategist Jason Marrs dare you to re-examine your every belief about pricing and empower you to take a more creative, more effective, bold approach to your price-and prosperity. Kennedy and Marrs don't offer little tricks, like new ways to say 50% off, half off, or 2 for 1.
They tell you the secret to setting prices for the greatest gain.
Then they teach you how to avoid the ultimate price and fee failures-like attracting customers who buy by price.
You'll discover how to compete with FREE, learn how to discount without damage, and uncover the key to price elasticity.
Most importantly, you'll grasp how to use price to your extreme advantage and grant yourself the power to be as profitable as possible. Reveals:The 9 ultimate price and fee failuresThe trick behind discounting without devaluingThe 5 price-related propositions to be concerned withThe million-dollar secret behind "FREE"How to win price wars with competitorsWhy price cutting isn't the cure for the recession and what isAnd More"All I can say is wow.
I had been having a difficult time accepting that we can justify a slightly higher than usual price for our product until I read Chapter 7.
The examples and stories in No B.S. Price Strategies made what would typically be a dull read - fun and interesting.
Thanks for taking this useful information and making it enjoyable." -Robin Strickland, Co-Founder, BigLittleFudge.com
Information
Format: Paperback / softback
Pages: 288 pages
Publisher: Entrepreneur Press
Publication Date: 01/05/2011
Category: Business & management
ISBN: 9781599184005
Free Home Delivery
on all orders
Pick up orders
from local bookshops