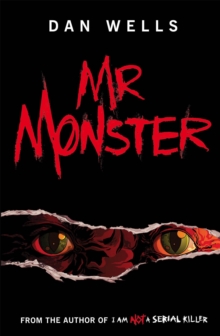 Description
Mr Monster is the second chilling novel in Dan Wells's John Wayne Carver series, and the follow up to I Am Not A Serial Killer - now a major motion picture. John Wayne Cleaver has always known he has a dark side but he's fought hard to oppress it and live a normal life - separating John from Mr Monster to survive.
But after confronting and destroying the vicious killer that was terrorizing his town, his inner monster is getting stronger and harder to contain. And now more bodies are being discovered...With the police failing to catch Clayton County's second serial killer John is going to have to use his secret knowledge of the first demon-killer to trap the second...but will he be able to avoid suspicion falling on him, and, in the face of extreme horrors, will he be able to restrain Mr Monster?
Information
Format: Paperback
Pages: 288 pages
Publisher: Headline Publishing Group
Publication Date: 01/02/2010
Category: General
ISBN: 9780755348824
Free Home Delivery
on all orders
Pick up orders
from local bookshops
Reviews
Showing 1 - 3 of 3 reviews.
Review by Sandman47
16/06/2015
I found this book to be very new and bold and was glad that the series had continued with such originality, the main character reminded me of a cross between Dexter with a dash of the Winchester brothers, I can't wait to read any upcoming sequels.
Review by Illise_Montoya
16/06/2015
I'm the demon slayer. Come and get me.<br/><br/>Fine, Dan Wells. FINE. You're first book only mildly impressed me, but somehow your second book was so much better. Fuck you and your endings. It's so deliciously dark and unforgiving and intensely gripping. Damn you. DAMN YOU. Now I need to read more. Ass.
Review by KR_Patterson
16/06/2015
What a thrill ride. Always engaging, even if often disturbing. Gosh, why does it give me such a rush? Should I feel guilty? I really wanted to start it over again after I finished it, which is rare for me. I actually "dosed" myself as I read it, allowing myself only a little bit every night, so it wouldn't end too soon. This book was, if possible, even more upsetting than the first (I am Not a Serial Killer), but the payoff was greater too.