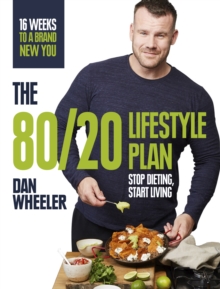 The 80/20 Lifestyle Plan : Stop dieting, start living
Paperback / softback
Description
YOU DID IT!!! You've just taken the first step to change your life, to finally get off the dieting wagon and free yourself from all the misery that comes with it. Before we go any further, give yourself a pat on the back.
I'm serious. This book is not only going to change your life for the better, it is going to make you healthier and, just as importantly, happier.
Bold words, I know. Words you've heard from every diet book you've ever tried, I'm sure.
I've done them all too. I was 22 stone and severely obese. I was unhappy, under-motivated and unfit. So how did I turn this around and not only lose weight but end up a Men's Fitness cover star?
Step forward the 80/20 lifestyle plan. A plan I devised on my own, for myself - and now for you.
I'm living proof that it works - you won't find a bigger (literally) body transformation than mine.
If you're anything like me, then you're sick to death of diets and dieting.
But this is about to change, forever!After reading this book, you'll be armed with all the tools you need to never have to diet again.
My goal is to educate and empower you, as well as explaining the life-changing pillars of the 80/20 plan: NutritionMovementMindsetBy the time you have finished 80/20, you will know more about nutrition and mindset than most personal trainers and therapists. No, I'm not kidding. The 80/20 Lifestyle Plan will take you on a journey that will change the way you think about fat loss, change the way you think about exercise, and change the way you think in general. Sit back. Buckle in. You're going to enjoy this
Information
Format: Paperback / softback
Pages: 224 pages
Publisher: Bonnier Books Ltd
Publication Date: 26/12/2019
Category: Men's health
ISBN: 9781788701372