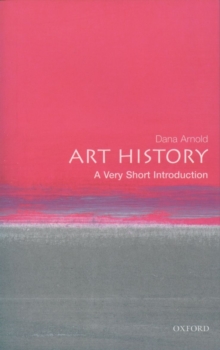 Art History: A Very Short Introduction
Paperback
Description
This clear and concise new introduction examines all the major debates and issues using a wide range of well-known examples.
It discusses the challenge of using verbal and written language to analyse a visual form.
Dana Arnold also examines the many different ways of writing about art, and the changing boundaries of the subject of art history.
Topics covered include the canon of Art History, the role of the gallery, 'blockbuster' exhibitions, the emergence of social histories of art (Feminist Art History or Queer Art History, for example), the impact of photography, and the development of Art History using artefacts such as the altarpiece, the portrait, or pornography, to explore social and cultural issues such as consumption, taste, religion, and politics.
Importantly, this book explains how the traditional emphasis on periods and styles originates in western art production and can obscure other critical approaches, as well as art from non western cultures.
ABOUT THE SERIES: The Very Short Introductions series from Oxford University Press contains hundreds of titles in almost every subject area.
These pocket-sized books are the perfect way to get ahead in a new subject quickly. Our expert authors combine facts, analysis, perspective, new ideas, and enthusiasm to make interesting and challenging topics highly readable.
Information
Format: Paperback
Pages: 144 pages, numerous halftones
Publisher: Oxford University Press
Publication Date: 22/01/2004
Category: History of art / art & design styles
ISBN: 9780192801814
Free Home Delivery
on all orders
Pick up orders
from local bookshops
Reviews
Showing 1 - 1 of 1 reviews.
Review by stillatim
16/06/2015
Caveat emptor: this is about the discipline of art history, not about the history of art. That said, it's a very nice piece about that discipline. It briefly tells you what art historians have done and what Arnold thinks they ought to do. Since it's a book written by an academic humanist who made her name in the 90s, it's massively and turgidly ideological--it's not enough to say that art history should pay attention to, you know, women and people who aren't pasty, you also have to self-flagellate and (more offensive) flagellate others for failing to do so, as if you would have known better before feminism. It's really a disgrace that Vasari didn't include more women artists in his work, right? At times Arnold comes close to suggesting that what art historians should do is limited entirely to this flagellation. <br/><br/>Thankfully, she has more interesting things to say than that, and had she said them at greater length and skipped the 'KILL ALL THE WHITE MEN'* stuff, the book could have been truly excellent. Well, except for one thing: her readings of philosophical aesthetics bear roughly the same relation to the actual thoughts of those aestheticians as Braque's cubist violins bear to, well, violins, except that Braque meant to do that. Her own theory is a good one, though, and looks more or less like what lit types like me call reader response theory mixed with an appreciation for that fact that artworks really do exist. <br/><br/>The writing's occasionally horrific, but that's the be expected. <br/><br/><br/>*sample strangeness: "instead of calling for a fundamental shift in art practice and appreciation, [Clement] Greenberg now worked to exclude from the privileged domain of high art... the work of women artists, minority groups, and elements of popular culture." I have no doubt that Greenberg's actual pronouncements may have had the *effect* of 'excluding' women and minority artists, simply because they weren't working in his preferred style. But to say that he "worked to exclude" them is something else all together, implying a kind of VAST CONSERVATIVE CONSPIRACY of the type better left to the conservatives who actually believe in vast conspiracies, because then they don't have to face up to their/our own complicity or the horrific consequences of the things they/we love.
Also in the Very Short Introductions series | View all