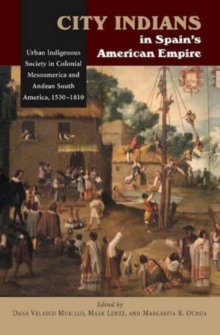 City Indians in Spain's American Empire : Urban Indigenous Society in Colonial Mesoamerica & Andean South America, 1530-1810
Hardback
Description
This volume, the first of its genre in English, brings together the pioneering work of scholars of urban Indians of colonial Latin America.
An important, but understudied segment of colonial society, urban Indians composed a majority of the population of Spanish America's most important cities.
The geographic range, chronological scope, and thematic content of urban native studies is addressed by examining such topics as the role of natives in settling frontier regions, interethnic relations, notaries and chroniclers, and the continuation of indigenous governance.
In spanning the entirety of the colonial period, the persistence and the creation of urban Indian identities and their contributions to colonial society is brought to the fore.
Scholarly contributions include chapters by Susan Schroeder, "Whither Tenochtitlan?
Chimalpahin and Mexico City, 15931631" and David Cahill, "Urban Mosaic: Indigenous Ethnicities in Colonial Cuzco". The volume opens with commentary by John K. Chance, pioneer scholar of urban Indians in Latin America and author of the highly praised Race and Class in Colonial Oaxaca and is summed up in "Concluding Remarks" by Kevin Terraciano, author of the widely acclaimed The Mixtecs of Colonial Oaxaca: Nudzahui History. The diverse themes, time periods, and geographic regions discussed herein make this illustrated book essential reading for all those engaged in colonial and indigenous studies.
Information
Format: Hardback
Pages: 272 pages, maps
Publisher: Sussex Academic Press
Publication Date: 21/12/2011
Category: History of the Americas
ISBN: 9781845194413
Free Home Delivery
on all orders
Pick up orders
from local bookshops