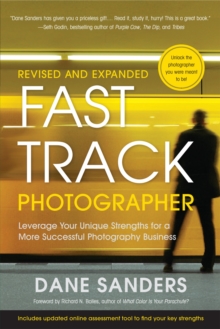 Fast Track Photographer, Revised And Expanded Edition
Paperback / softback
Description
This title presents a groundbreaking approach for photographers who want to best position their unique strengths for success.
This book is entertaining, motivating and inspiring.
In today's recessionary economy and with dSLRs luring increasing numbers of amateurs to the field, competition is fiercer than ever.
This empowering book by popular photographer and speaker Dane Sanders inspires working photographers and other creative people to define their commercial identity based on personality, raw abilities and circumstances, then enables them to devise a foolproof plan for a more fulfilling, recession-proof approach to the business.
Previously sold as a self-published book targeting solely wedding photographers, this revised and updated edition applies to all photographers, in all genres.
Information
Format: Paperback / softback
Pages: 240 pages
Publisher: Watson-Guptill Publications
Publication Date: 24/06/2010
Category: Photography & photographs
ISBN: 9780817400019
Also by Dane Sanders