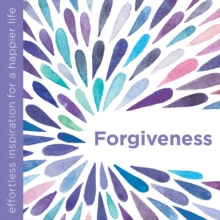 Description
Recent scientific research has shown that people who forgive both themselves and others tend to feel more relaxed and open, have less risk of getting stressed or depressed, experience stronger relationships and even have enhanced immune systems.
After all, holding on to past resentments and negative energy tends to cause painful memories to fester in our subconscious, which prevents us from moving forward with joy in life.
Practising the art of forgiveness is the perfect antidote to this.
Perfect as either a gift or self-purchase, this lovely little book features 18 inspirational quotes on the theme of forgiveness, each one followed by an insightful explanation, a thought-provoking activity or question and a memorable affirmation - all intended to inspire readers to think about forgiveness in a fresh way as well as encourage them to incorporate it into their everyday lives.
With its appealing design, uplifting content and friendly tone, this discerning little book provides beautiful, bite-sized inspiration for people around the world to feel more forgiving, lighter, freer and more at peace in life.
Free Home Delivery
on all orders
Pick up orders
from local bookshops