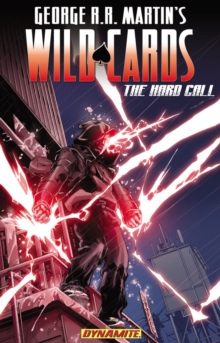 George RR Martin's Wild Cards: The Hard Call
Hardback
Description
In 1946, an alien virus is accidentally unleashed that changes the worldforever.
Most of those infected die horribly, said to have drawn the Black Queenas their fated card.
Ninety percent of those who survive mutate into Jokers- deformed, broken, hated, and feared.
But a handful are lucky enough tobecome Aces, gaining superpowers that allow them to achieve almost anything themind can conceive - both in dreams and in nightmares. Sixty years later, an Ace named Croyd Crenson, better known as the Sleeper,is framed for the murder of a young nurse in New York City's Jokertown.
AsCrenson investigates the killing to clear his name, he has to fight to stayawake, or else his unusual ability will change him into something else entirely. Meanwhile, a group of teenagers in Whiteoak, Colorado, accidentally activate thedormant wild-card virus, wiping out nearly the entire town.
As the teens aresent to the Jokertown clinic, they discover that not all Jokers are bad and notall Aces are good. Set in the world of the novels edited by George R.
R. Martin and featuring abrand-new set of characters, as well as appearances from many old favorites,Wild Cards: The Hard Call is an original story written specifically forcomics that will enchant new readers and old fans alike.
Information
Format: Hardback
Pages: 140 pages
Publisher: Dynamic Forces Inc
Publication Date: 15/02/2011
Category: Science fiction
ISBN: 9781606901588
Free Home Delivery
on all orders
Pick up orders
from local bookshops